Justin Timberlake And Jessica Biel's 'Unforgettable' Wedding Details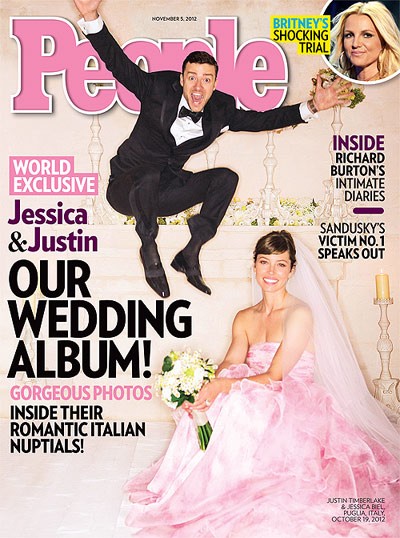 All the details of Jessica Biel and Justin Timberlake's "unforgettable" Italian wedding – from the bride's pink gown to the groom's sweet serenade – are revealed in 10 pages of gorgeous exclusive photos and an interview with the couple in this week's issue of PEOPLE. "It was really a special evening," Timberlake tells PEOPLE. "There were definitely tears from both of us…There were so many highlights from when I first saw her to standing next to her to taking in everyone's faces." Adds Biel: "The experience was like a total fantasy."

During the candlelit non-denominational ceremony, Timberlake, 31, and Biel, 30, exchanged handwritten vows that were "filled with our love for each other and what this means for us," says Timberlake, adding, "I can't let more than 10 minutes go by without some moments of comedy so they were funny and heartwarming." Biel agrees: "It was a mixture of laughter and tears during the ceremony. It was a roller coaster!"

It was the culmination of painstaking and top-secret planning that began last December after Timberlake popped the question in Big Sky Montana. "We really did this whole thing together," says Timberlake. "She did the soup and I did the nuts. And that we didn't kill each other, that's a bonus!" In the end, they opted for a destination wedding in the Puglia region of Italy because "we wanted to create a time for our family and friends to say goodbye to their lives and really feel like they were on vacation," says Biel. Plus, the locale plays into one of their joint passions. "We love to eat!" she says.

The look Biel was going for on her big day was "romance, romance, romance." So she turned to designer and longtime pal Giambattista Valli to create her custom confection. "It was very feminine and fun," says Biel, who wore yellow and pink diamond and rose gold earrings by Martin Katz. "I actually surprised myself when I chose my dress. It's a style I will only ever wear that one day."

One sweet moment of the night came when the singer-actor shared his first dance with Biel to Donny Hathaway's "A Song for You." "That was one of the really special highlights for me," says Timberlake. "That happens to be one of my favorite songs of all time and Jess's as well." Guests then hit the dance floor to tunes ranging from retro '60s classics to hip-hop hits spun by DJ Questlove. "Everyone got their groove on," says Timberlake. "Our family and friends are as silly, quirky and crazy as we are."

While Biel will keep her name professionally (she stars in the upcoming Hitchcock biopic), she's ready to be Mrs. Timberlake outside of Hollywood. "I love his last name," she says. "I think it's the coolest name I've ever heard." But the change she says she's most excited about is gaining a lifelong partner in crime. "It's as simple as having someone there to open up that pickle jar when you can't get it open and as complicated as deciding to be in each other's lives forever," says Biel. "That kind of commitment is very special, and we were ready to jump."

Pick up the new issue of PEOPLE, on newsstands everywhere now, for all the glamorous details and Jessica & Justin's complete wedding album!


*Also In This Week's 'People'*

Robert Pattinson & Kristen Stewart: "There's Still Healing To Do And Trust Issues"
Britney Spears's Court Battle: "She's Letting Her Dad And The Lawyers Handle Things"
Helen Hunt On Her Role In The Sessions: "It Was Scary But It Was Also Perfect"
Matt Bellamy On Marrying Kate Hudson: "We're Not Traditionalists In That Way"
Rod Stewart On Janis Joplin: "We Were Terrified Of Her"