Justin Bieber's DUI Arrest Continues His Move From Music To Excess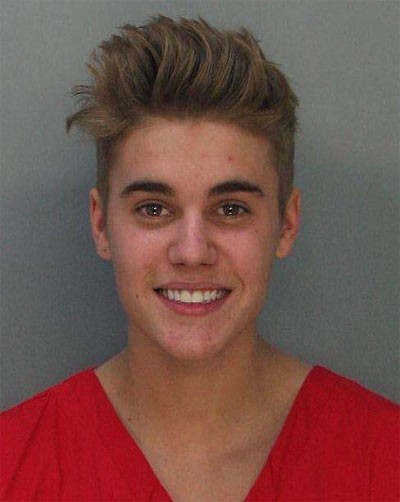 Last year around Grammys time, it seemed a snubbed Justin Bieber did everything in his power to put the attention on himself.  This year, prior to the Grammys, Bieber has attention on himself, but it makes his staged publicity stunts last year look pretty tame.  After more than a year of horrid, utterly ridiculous and irresponsible behavior, the 19-year old pop star has been arrested for possible drag racing and DUI. At the rate that the singer is going, things are looking just plain awful for Bieber.  First it was egg-throwing, now its driving while being wasted and racing. SMH!
As I've alluded to several times following Bieber's career, particularly as of late, his focus seems to have completely shifted from music to excess.  The music seems to be taken for granted by the pop star, who with new found cockiness, seems to be more concerned about being a bad boy of sorts. Shirtless instagram photos are one thing, as are tattoos, but a 19-year old who has been viewed as something of a role model and heartthrob for very young fans getting arrested for DUI and even more dumbly for drag racing is troublesome.  It's more troublesome because at 19, Bieber shouldn't be so entangled in such adult matters.  There's adults who have never been entangled in such 'adult matters' as Bieber finds himself.
I'm no Justin Bieber fan, but I knew he was going to blow up when I first began following his career.  Somewhere along the line, fame and its privileges have truly ruined him.  After the turbulent year of 'growing pains' Bieber experienced in 2013, you'd think that the man Bieber claims to be would actually begin to show in his actions and the decisions he makes.  Instead, much like last year, things seem to be crumbling apart for Bieber, and that 'crumbling' is more extreme than last year.  Bieber holds the deck of cards, but they way he plays them determines where he goes not only as an artist and pop cultural phenomenon, but also how he ultimately ends up as a person.  At this point, it is safe to say, regardless of what comes of this arrest/charges, Justin Bieber needs help before he goes "a bridge too far."