Justin Bieber's 'Boyfriend' Is About Selena Gomez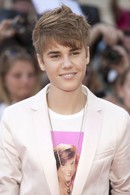 Justin Bieber has confirmed his new single is a tribute to his girlfriend Selena Gomez.

The 18-year-old pop star released Boyfriend, the first single from his upcoming album Believe, this month and the song features the lyrics, "If I was your boyfriend, I'd never let you go/ I can take you places you ain't never been before/ Baby take a chance or you'll never ever know/ I got money in my hands that I'd really like to blow/ Swag swag swag, on you."

Fans had speculated the song was about his long-running romance with singer/actress Gomez, and Bieber has now revealed the rumors are true.

In an interview with Carson Daly on AMP Radio, Bieber says, "She (Gomez) loves it. It is about her."

In another chat with Radio Disney, the singer describes how he makes their relationship work: "It's just about being honest with one another. You just have to be honest, that's the first thing, because if you're not honest then the relationship is just not a good relationship."