Justin Bieber Wins 'Disruptive Innovation' Award At Tribeca, Greets & Kisses Fans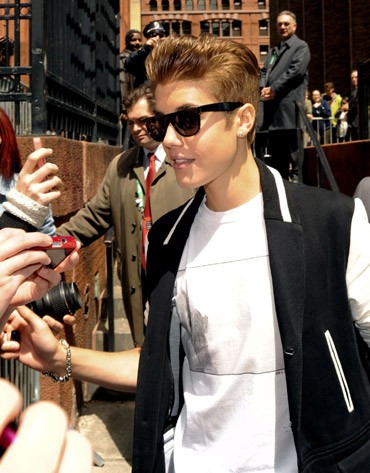 Justin Bieber took some time out of his busy schedule to greet fans at the Tribeca Film Festival yesterday where he accepted an award for "Disruptive Innovation."
The pop star received the award for disrupting "the traditional gatekeepers of the music industry." Bieber famously got discovered after posting his performances on YouTube. A talent agent helped Bieber land an audition with R&B star Usher, who - along with Island/Def Jam chairman L.A. Reid - gave the 15-year-old  a recording contract.
The singer wore a varsity jacket and sunglasses as he kissed fans and took pictures with them at Tribeca. According to ABC news, Bieber said, "I don't think that I would be here without the Internet. The fans feel connected to me."
He's not the only celebrity who realizes the internet helped make him a star. Kim Kardashian recently told Paper magazine, "I think a lot of our fanbase, and a lot of our connection with people is Internet-based. I think that the Internet has brought on a different kind of celebrity."