Justin Bieber Wears An Odd Gas Mask In London, Takes Aim At Media In Twitter Rant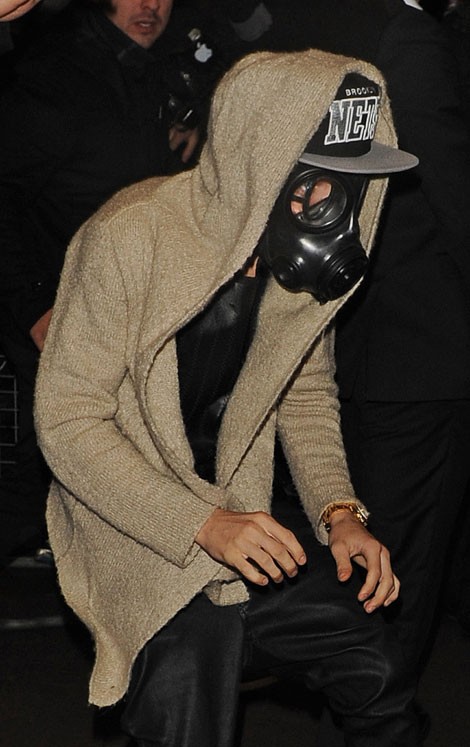 The negative press surrounding Justin Bieber's U.K. concert tour is apparently getting to the young pop star. In addition to walking around in a gas mask (huh?), he took to Twitter on Wednesday to lash out at the media for making up rumors and reporting negative stories about him.
False reports claimed he faced a hefty fine for appearing onstage nearly two hours late for the first of four gigs at London's 02 Arena. The media has also speculated that he's dating 17-year-old British singer Ella-Paige Roberts Clarke.
On Friday, the singer and his entourage were reportedly kicked out of London's Cirque du Soir nightclub as they celebrated his 19th birthday because he tried to bring underage guests into the venue.
In response to all the speculation, Bieber posted a series of tweets:
"rumors rumors and more rumors. nothing more nothing less. might talk about them 1 day. rt (right) now im just gonna be positive. cant (sic) bring me down... im (sic) focused on the good things in life...
 
"fake stories to sell papers i guess are part of the job. but im a good person. i know that. u (sic) cant tell me different. we know the truth... u can say whatever... so make up stories about fake fines and make no mention of the positive... or say... any girl i stand next to is my girl... or that a 19 year old going to a club in europe is wild...
 
"i understand it is part of the job to be judged...but judge me on the facts, judge me on the music, and be careful of the judgement u pass... so yeah I will continue being me. i will continue to serve, to perform, to care, to love, to smile, to dance, to play, to sing... and u are welcome to join, because i carry no hate. We got to (sic) much love for that. Im about the music. Gonna enjoy the day and keep smiling. so should all of u. Much love. i see u #beliebers (fans) = i love u... now back to this music".