Justin Bieber To Be Honored At Tribeca Film Festival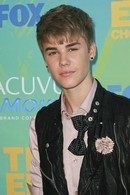 Pop star Justin Bieber is set to be honored at the 2012 Tribeca Film Festival in New York for his impact on social media.

The Baby hit-maker's mother took to YouTube.com to publicize the star's talent when he was an aspiring singer, prompting manager Scooter Braun to sign him up.

Bieber has since sold more than eight million records worldwide, and Tribeca Film Festival chiefs are recognizing the pop star and Braun for "the historic discovery of Bieber on YouTube and his subsequent social media rise."

The pair is expected to attend the Disruptive Innovation Awards ceremony on April 27th  to pick up the prizes for impacting "the worlds of business, technology, arts, entertainment and beyond".