Justin Bieber Throws Up On Stage During First Show Of 'Believe' Tour (Video)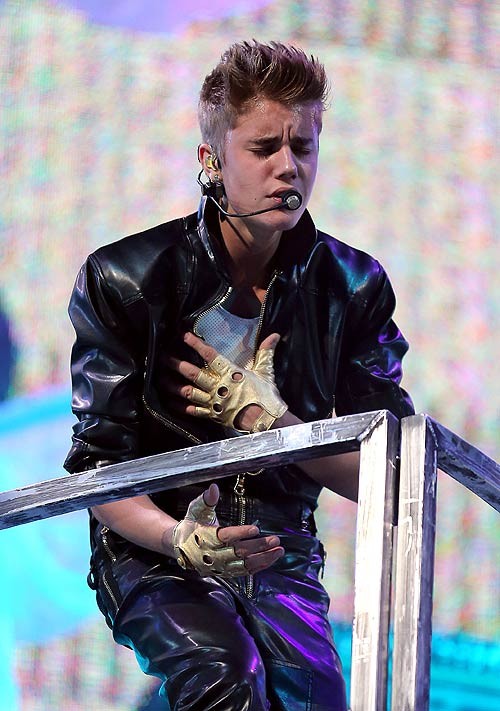 Justin Bieber kicked off his "Believe" tour Saturday night in Glendale, Arizona; and the "Baby" singer wasn't about to let a little stomach bug interfere with his performance.

About halfway through the show, during a performance of "Out Of Town Girl," Bieber paused during a dance routine, turned around and threw up in front of the entire audience. He then ran off stage to compose himself for a moment while someone cleaned up the mess.

Upon his return, Justin apologized to the audience, saying, "I'm sorry, I'm going to slow things down"; which he did with an acoustic performance of "Fall," according to The Hollywood Reporter.

A couple of songs later, though, Justin
ran off stage to get sick again.

"It's hard for me, you know, not feeling great and throwing up in front of a bunch of people," he told the audience before asking them, "Will you love me even tough I'm throwing up on stage?"

The crowd cheered and Bieber refused to let his stomach issues affect his performance; however he did reveal afterward that drinking milk beforehand was probably not a good idea.

He shared a photo on Instagram with the message, "Great show. Getting better for tomorrow's show !!!! Love u... And .... Milk was a bad choice! Lol."

Justin must've also found some humor in one of the posts his followers made also, re-tweeting a fan's message that read, "Justin Bieber concert was sick." We're not sure if her choice of words was a joke, or just ironic.

On a sad note, last week, Bieber superfan Avalanna Routh; who suffered from a rare form of brain cancer; passed away at the age of six. Bieber flew Avalanna and her mom to New York in February, and the little girl stole his heart. He dedicated Saturday night's show to her.

"Goodnight Avalanna. Tonight was for u. I love u," he tweeted.