Justin Bieber, Superhero? Posts Selfie With 'Batman Vs. Superman' Script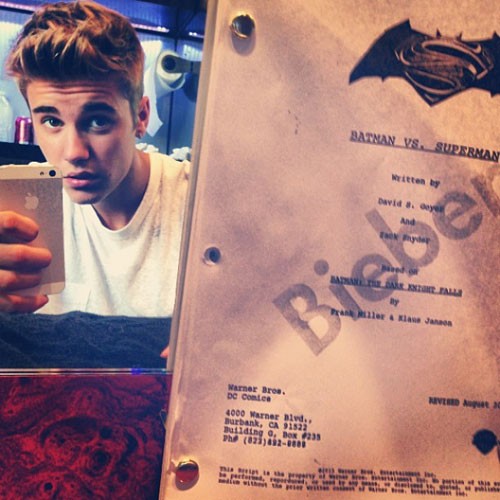 Justin Bieber is either appearing alongside Ben Affleck in the next Batman movie, or he's playing a prank on the Internet.
The pop star photographed himself next to an apparent script for "Batman Vs. Superman" the other night. The script has writing credits (David S. Goyer and Zack Snyder) as well as a "Bieber" watermark.
The photo was liked over seven hundred thousand times, with many fans of the singer asking if it was for real and fans of the comic series wishing it wasn't.
However, it appears Bieber may have spoiled an upcoming video from comedy site Funny or Die, as he posted "Off to do something funny or...die :)" on Twitter earlier in the day.
If it is a gag, it's eerily accurate. The comic book referenced on the script, The Dark Knight Falls, is the fourth issue of Frank Miller's The Dark Knight Returns series. In that issue, as elderly Batman faces off with Superman.