Justin Bieber Shows Off Latest Ink & Hints At Hosting SNL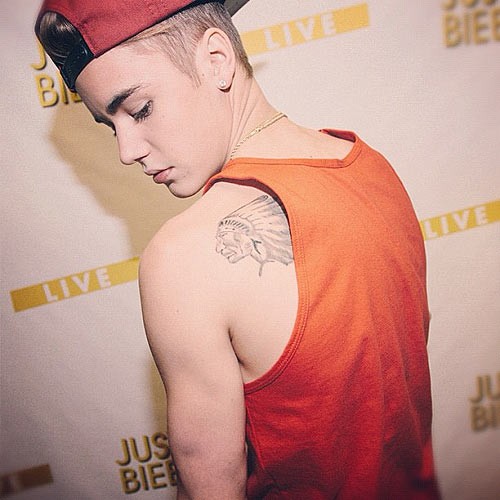 Justin Bieber has tattoo fever.

The pop singer, who's set to release an all-acoustic version of his hit album "Believe" January 29th, showed off some new needlework he had done via his Instagram page.

At last count, the Biebs had seven permanent artworks painfully etched into the deep layers of his dermis, including several religious icons and words of inspiration. He's got Yeshua (the Hebrew word for Jesus) inked on his ribcage (his dad has one that matches), a small bird, the word "believe", a crown, the Japanese 'Kanji' symbol ("music"), a large owl on his forearm and a pair of praying hands on his lower leg.

Justin expanded the praying hands recently, adding a thick band of roses around his ankle (page 3); and he just added an Indian head to the back of his right shoulder.
The Indian head is actually the logo for the Ctratford Cullitons hockey team, who Justin's grandfather often took him to see play.
"My grandfather always took me to the stratford culliton every friday night this is for u Grampa ... My man @chenterios hooked it up," he tweeted.

The singer is very happy that the NHL (National Hockey League) was able to hammer out a new collective bargaining deal over the weekend and end the hockey lockout. The sport is expected to resume on or around January 19th.
"HOCKEY IS BACK!!" he wrote.
Whatever his inspirations are, by the time you know it, Justin's going to look like Motley Crue.

The active user of social media keeps his fans in the know about all that he's doing, and he just tweeted Monday morning that he's going to be featured on an upcoming episode of Saturday Night LIve -- hinting that maybe he'd be more than just the musical guest.

"[M]aybe im hosting and performing on SNL...maybe. :)" he wrote on Monday. We'll have to wait for the official announcement on that one.

See more young celebs obsessed with tattoos here.
Tattoos: trashy or hot? Let us know in the comments!