Justin Bieber Shows Off His Sexy Six Pack In New Instagram Pic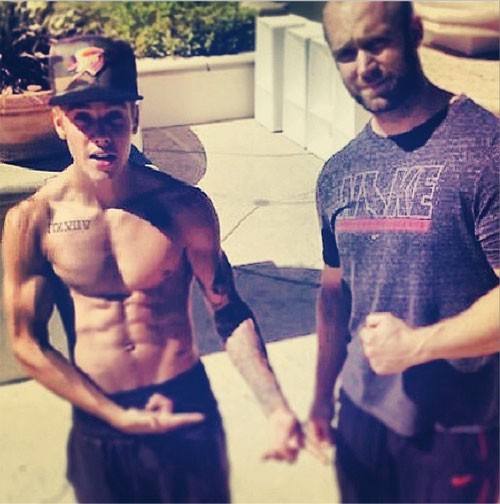 Justin Bieber has been working hard in the gym as evidenced by a new photo he posted on Instagram on Wednesday. The 19-year-old singer is shirtless and flexing his muscles in the photo, which he captioned: "Me and my trainer."
The pop star recently released the single "Heartbreaker," which he admits is about his break up with Selena Gomez.
The song features a spoken word verse where he says, "So what I'm really trying to say is / and what I hope you understand / Is despite all the imperfections of who I am / I still wanna be your man."
Bieber will be releasing new music every Monday for the next 10 weeks.
Earlier this week, his pal Miley Cyrus posted a photo of herself wearing a t-shirt with an image of Bieber smoking a joint and the tagline "Reefer Fever" on it, an apparent take on "Bieber Fever."
Over the weekend, Bieber was photographed at a party with what looked like a joint in an image obtained by TMZ.com. He was hanging out with a girl who looked like Nickelodeon star Ariana Grande, 20.