Justin Bieber Reportedly Smokes Weed At Amesterdam Coffee Shop; Celebs Defend The Pop Star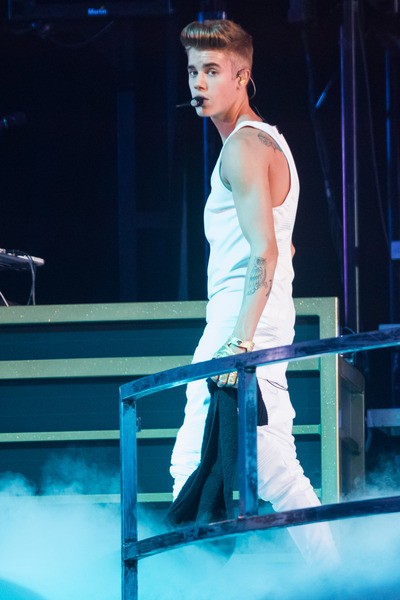 Justin Bieber won't stay out of the news - whether it's factual or rumor based. On Monday the pop star made a pit stop in Amsterdam during his world tour, and a source claims he was spotted smoking marijuana at a coffee shop.
First he visited club De Melkweg where he tried to reserve a table, but he was turned away because the venue was too crowded. He later went to a coffee shop called Easy Time, and a source told PerezHilton.com he smoked a joint and ate a pot-laced treat known as "space cake."
The singer also went to a gift shop and purchased some gifts for himself, friends, and family, including a joint holder.
It isn't the first time Bieber has been caught up in a marijuana scandal. In January, a photo leaked showing him smoking pot at a party inside a Newport Beach hotel in California.
Meanwhile, more celebrities are sticking up for the pop star after he had a horrible week in London, which included getting turned away from a club on his birthday, arriving two hours late to a gig, confronting a photographer, and being hospitalized after fainting backstage. He also canceled a concert in Portugal due to poor ticket sales.
Actress Jada Pinkett-Smith, whose 14-year-old son Jaden is friends with Bieber, wrote on Facebook: "Is it okay to continually attack and criticize a famous 19 year old who is simply trying to build a life, exercise his talents while figuring out what manhood and fame is all about as he carries the weight of supporting his family as well as providing the paychecks to others who depend on him to work so they can feed their families as well?"
Bieber responded on Twitter, writing: "you are the best!!"
Black Eyed Peas star Will.I.Am told U.K.'s Channel 5 News: "I already gave (advice) to him on the phone, he's good, he's a good kid. When you're 17, 18, 19, 20 the world can get you off course but he's gonna be alright. He has a good family, good people around him. Just every once in a while there's a bump in the road."