Justin Bieber Posts Topless Photo Of Himself With Selena Gomez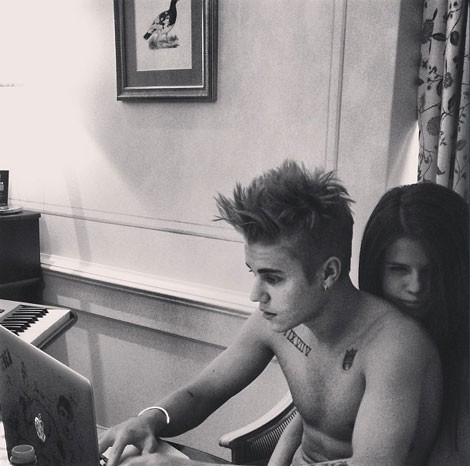 Back together? Justin Bieber basically proved his on/off romance with Selena Gomez is on again by posting a topless photo of himself in an embrace with the "Spring Breakers" starlet.
Bieber posted the black-and-white image on Instagram on Friday.
The image reveals a shirtless Bieber working on his laptop as Gomez hugs him from behind with a mischevious face. The caption reads: "'You've been makin music for too long babe come cuddle' - her."
Earlier this month the couple sparked reconciliation rumors after flew jetted to Oslo, Norway, to visit Bieber while he's on tour. They split late last year amid rumors Bieber cheated on Gomez with a Victoria's Secret model.
Meanwhile, Bieber has less than one month to collect his pet monkey Mally from German customs officials. The capuchin was seized last month when he failed to provide authorities with the proper paperwork.
On Wednesday, his tour bus was raided in Sweden after a police officer smelled marijuana smoke coming from the vehicle. No one was on the bus when it was searched and no arrests were made.