Justin Bieber Parties With His Pants Down In Texas Strip Club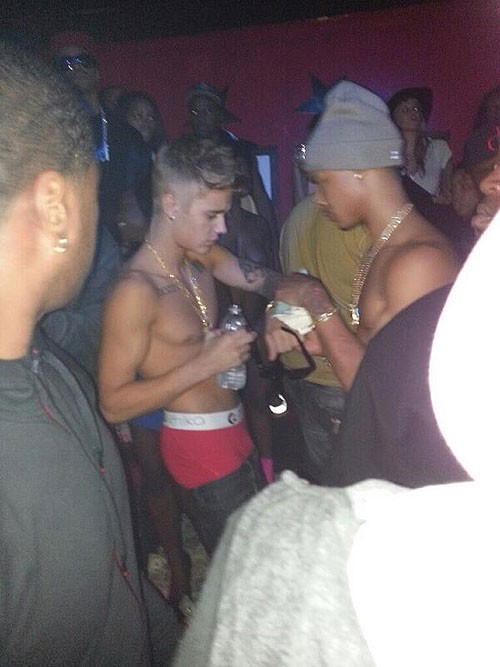 Justin Bieber got past the look-but-don't-touch rule at a Texas strip club Friday night when he groped one of the dancers.

Photos of the 19-year-old at Houston topless club VLive show the singer partying shirtless with his pants pulled down to expose his boxers (something that should be a felony) and rubbing elbows with boxer Floyd Mayweather Jr. Bieber and his entourage reportedly "made it rain" for several of the dancers, leaving wads of one dollar bills for the strippers, including one who was left breathless by the star.

"He touched my a** I almost fainted," dancer DiamondsR4ever wrote on her twitter page. "He Was Like Its Real!!"

The exotic dancer added later that she usually doesn't get starstruck.

"I've Danced For A lot Of Celebrities And They Normally Don't Phase Me But Justin just Had Me In Shock!" she tweeted; adding later, "I am now a @justinbieber Fan!"

According to TMZ.com, the strip club is pretty raunchy and the girls "do things that leave marks".

Dancer Lira Galore posted the above image to her twitter page, writing, "Bieber was in vlive turnin up"; while Natalie Alarcon, aka xo_natalie1, wrote, "Justin bieber and floyd mayweather crazy tonight seriously #crazy #vlive #stripclubsanddollarbills."

Justin recently revealed that he has a new movie coming out. "Justin Bieber: Believe" hits theaters on Christmas Day.