Justin Bieber Named MVP of NBA All-Star Celebrity Game (Video)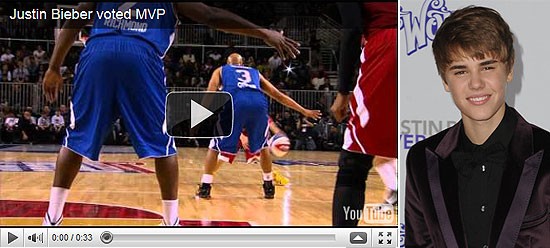 Justin Bieber has proved he's a force to be reckoned with in the charts and on the basketball courts - he was named the most valuable player (MVP) at the NBA All-Star celebrity game on Friday night.

The "Baby" hitmaker was part of the starry line-up, which also included actor Zachary Levi, R&B singer Trey Songz and Mariah Carey's husband Nick Cannon.

Bieber scored eight points for his team to claim the MVP trophy - even though his side lost the game 54-49.

During the match, Bieber joked, "I'm just running back and forth. I'm controlling this whole team. I'm just kidding."

After the game, Bieber Tweeted, "That was fun. Crazy being coached by @magicjohnson - gonna auction off my jersey for charity at www.bieberfever.com"

The NBA All-Star Game airs Sunday, Feb. 20 at 7pm on TNT.
Wanna know who's playing in the big game? Check out the rosters:

Eastern Conference:

Starters:
LeBron James - Miami Heat
Amar'e Stoudemire - New York Knicks
Dwayne Wade - Miami Heat
Derrick Rose - Chicago Bulls
Dwight Howard - Orlando Magic

Bench:
Ray Allen - Boston Celtics
Chris Bosh - Toronto Raptors
Kevin Garnett - Boston Celtics
Al Horford - Atlanta Hawks
Joe Johnson - Atlanta Hawks
Paul Pierce - Boston Celtics
Rajon Rondo - Boston Celtics

Western Conference:

Starters:
Tim Duncan - San Antonio Spurs
Kevin Durant - Oklahoma City Thunder
Carmelo Anthony - Denver Nuggets
Kobe Bryant - Los Angeles Lakers
Chris Paul - New Orleans Hornets

Bench:
Yao Ming - Houston Rockets
Manu Ginobili - San Antonio Spurs
Pau Gasol - Los Angeles Lakers
Blake Griffin - Los Angeles Clippers
Kevin Love - Minnesota Timberwolves
Dirk Nowitzki - Dallas Mavericks
Russell Westbrook - Oklahoma City Thunder
Deron Williams - Utah Jazz

Last year the East won, defeating the West by a score of 141-139.

Our pick? With all the recent Carmelo Anthony trade talk, we think he's gonna light it up and the West will win!
Click for more great Justin Bieber pictures: