Justin Bieber Named Artist Of The Year At AMAs - Check Out Pics Of Taylor Swift, Christina Aguilera & More!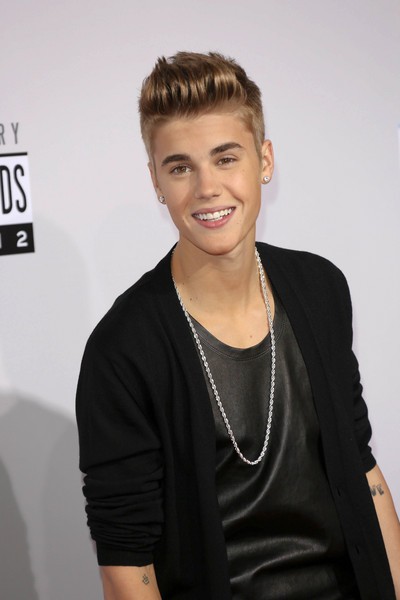 Justin Bieber took home the coveted "Artist of the Year" prize at last night's American Music Awards (AMAs) in Los Angeles. The pop star also won "Favorite Pop/Rock Male Artist" and "Favorite Pop/Rock Album" trophies.
Bieber, who attended the event with his mother Pattie Mallette, dragged her on stage when he recieved the night's most anticipated award. "This is my mom, she's little but she's beautiful...I wanna thank you for just always believing in me...This is amazing," he told the crowd.
Skirting around rumors that he and Selena Gomez broke up, he told fans, "As long as you guys keep believing in me... I wanna always make you proud." According to E! Online, the pair were spotted together at an after-party.
Performers at the event included The Wanted, Kelly Clarkson, Ke$ha, No Doubt, Christina Aguilera, Taylor Swift and Pink. South Korean pop sensation PSY and MC Hammer did a "Too Legit To Quit" mash-up, and Stevie Wonder paid tribute to the late Dick Clark, who created the AMAs.
The complete list of winners is:

Favorite Pop/Rock Male Artist - Justin Bieber
Favorite Female Country Artist - Taylor Swift
New Media Award - Psy
Favorite Rap/Hip-Hop Album - Pink Friday: Roman Reloaded by Nicki Minaj
Favorite Alternative Rock Artist - Linkin Park
Favorite Soul/R&B Male Artist - Usher
Favorite Country Male Artist - Luke Bryan
New Artist of the Year - Carly Rae Jepsen
Favorite Country Band/Duo or Group - Lady Antebellum
Favorite Electronic Dance Music Artist - David Guetta
Favorite Pop/Rock Album - Believe by Justin Bieber
Favorite Rap/Hip-Hop Artist - Nicki Minaj
Favorite Country Album - Blown Away by Carrie Underwood
Artist of the Year - Justin Bieber
CHECK OUT TONS OF PHOTOS OF CARRIE UNDERWOOD, NICKI MINAJ, TAYLOR SWIFT & MORE ON THE FOLLOWING PAGES...