Justin Bieber: Is This Kid Here To Stay?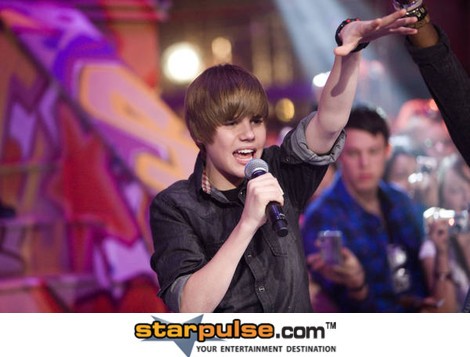 March Madness is in the air, and so is Bieber Fever. While college basketball fans are pumping their fists and jumping in joy as their Final Four picks advance to the next round of the NCAA tournament, Justin Bieber fans, mostly teenage girls, will be rushing to the mall and trampling each other in the process to buy his second album "My World 2.0" on March 23. This new album, which features big name artists like Ludacris and Sean Kingston, will prove to music critics that this young phenomenon is the real deal and the success of his first album wasn't a fluke.
But Justin doesn't have much to prove. At 16 years old, he's already had a Platinum album, appearances on almost every TV talk show there is, and young female fans who swarm to his concerts and autograph sessions like he's a member of the Beatles. On top of that, he's been compared to other pop and R&B singers like Jesse McCartney and Justin Timberlake. "The Bieb," as most fans like to call him, is on top of the world. So, how did this kid rise to such heights of stardom in such a short of period of time?
Well, like most up-and-coming musicians nowadays, the Canadian born Pop/R&B singer was discovered on the internet where he posted videos of his performances, singing his versions of songs by artists like Usher, Stevie Wonder, and Ne-Yo. Bieber's videos on YouTube and Myspace generated millions of views and eventually caught the eye of a former executive who worked for So So Def Records. That same executive introduced Justin to R&B star Usher, who took Bieber under his wing and landed him a record deal with Island Records in late 2008.
It wasn't until the middle of last year when Justin released four pre-singles from his first album "My World," that's when Bieber Fever began to cause a major outbreak. Hit singles like "One Time," "Love Me," and "Favorite Girl" made teenage girls around the world cry and faint over his vocals. Justin became the first artist to have four pre-album hit singles on the Billboard Top 100 charts.
After the album's release, Bieber Fever moved quickly and spread like a wildfire. Justin appeared on talk shows like Today, The Ellen DeGeneres Show, and Good Morning America. He even performed at the White House for President Barack Obama and first lady Michelle Obama on the Christmas in Washington television special. And his popularity with the ladies increased even more. Teenage girls weren't the only ones being infected with Bieber Fever, female music artists like Nicole Scherzinger were smitten by Justin's charm.
As of right now, everything looks fine and dandy for Justin, but ten or twenty years from now, things may change. We've seen child stars in the past become famous and successful at a young age, but then have their careers come to a screeching halt later on in adult life. One of Bieber's predecessor's, Aaron Carter, achieved similar success when he was just 10 years old. After being thrust in the spotlight at a young age and having a dream career with all of his music albums, acting roles, and relationships with Lindsay Lohan and Hilary Duff, Carter's legal and drug problems kept him out of the limelight until recently when he was featured as a contestant on last season's Dancing With The Stars. And let's not forget Leif Garrett, who was a teen idol in the 70's and has now become a distant memory because of his personal problems and drug use throughout his adult life.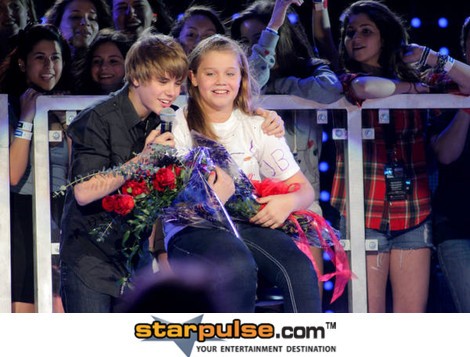 Justin Bieber probably will not take the same route as Garret, but history has shown that some child stars are doomed for disaster after achieving stardom at a young age. The pressure of constantly performing at a high level at a young age, and trying to satisfy the demands of executives and talent agents can take a toll on a young celebrity. This is why so many child stars disappear off the face of the earth. They become disinterested in the entertainment business and decide to step away from the celebrity spotlight, never to be seen again.
There's no way for us to predict right now whether Justin Bieber will turn out to be another "Where Are They Now?" child star. We'll have to wait years into the future to see if that happens. In 2010, his musical success can only be matched by artists like Taylor Swift and Lady Gaga. It's safe to say he's here to stay……….for now.
Story by Maccorley Mathieu
Starpulse contributing writer