Justin Bieber: 'I Don't Want To Make A Rap Album'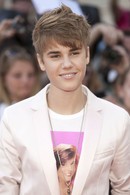 Pop singer Justin Bieber has ruled out releasing a rap album because he's convinced no one will take his hip-hop efforts seriously.

The Baby hit-maker has previously showed off his rap and beat boxing skills in interviews, but the pop star admits writing rhymes is just a hobby and not a career he wants to pursue.

He tells V magazine, "I do (rap) for fun, man. I do it just because I think it's fun... I don't think people take me seriously doing it. I'll just put it out so people will be like, 'That's pretty tight.' Like, just something I can do, but I don't want to make a rap album."

"But I also want people to know that I write my stuff. No one writes my stuff for me. I write everything on my iPhone. And when people say, 'Oh, Justin Bieber, he can spit (rap) but he didn't write his stuff,' they're wrong. I do."