Justin Bieber Heartbroken After The Death Of Six-Year-Old Superfan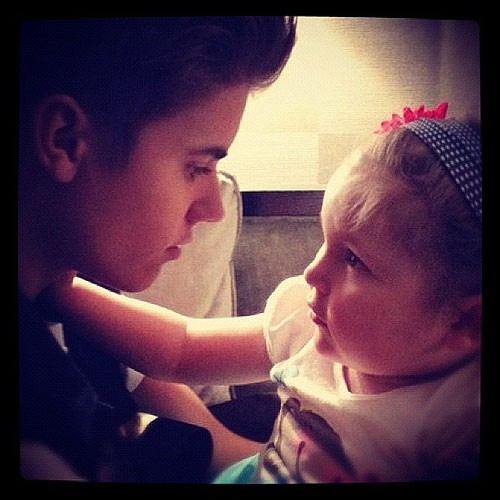 Six-year-old Justin Bieber superfan Avalanna Routh died of a rare form of brain cancer she was suffering from on Wednesday morning.

Her parents shared the sad news with her 175,000 twitter followers; writing, "Our darling Avalanna went to Heaven this morning. Oh Avalanna, the brightest star - you took our hearts with you, our greatest Love."

Avalanna's family, who dubbed her "#MrsBieber," started a twitter and Facebook campaign called "Get Avalanna to Meet Justin Bieber" with hopes of getting her a dream date to meet her idol. Bieber caught wind of the campaign and flew Avalanna and her mother to New York City in February -- just before Valentine's Day -- so he could spend the day with his number-one fan.

The New York Daily News reports that Avalanna was so "infatuated" with Bieber that the nurses who cared for her staged a mock wedding so the tot could marry her hero -- represented by a cardboard cutout of the star.

And that's what Justin did with her during their visit -- the two were married in a pretend ceremony; and they also played board games together during their meeting.

After their meeting, Bieber tweeted that that was "one of the best things" he had ever done; calling her "awesome." The two were reunited again in June for a TV interview.

Avalanna suffered from a rare form of cancer called AT/RT (Atypical teratoid rhabdoid tumor), which is a cancer of the central nervous system most often diagnosed in children. The cancer only has a 10% survival rate and only around 30 cases per year are reported.

"[J]ust got the worst news ever," Bieber tweeted Wednesday morning; "one of the greatest spirits i have ever known is gone. please pray for her family and for her... RIP Avalanna. i love you."

The Dana-Farber Cancer Institute's Dr. Charles Robert told the Associated Press that Avalanna was diagnosed with the disease when she was just 18 months old. He said she responded to initial treatments, but the tumor kept returning and became unresponsive to the treatments. The Cancer Institute called her a "very courageous young person who lived her life with grace and determination."

Bieber also took to his twitter page to ask that her family be left to their privacy during the difficult time.

"Please show respect to her and her family... i miss her," he wrote.