Justin Bieber Grabs Fan's Breast In Photo Posted To Official Website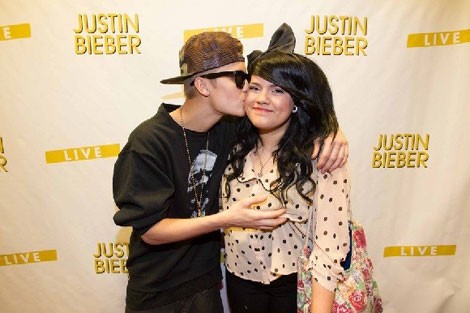 Looks like Justin Bieber is enjoying the single life! A pic of the pop star apparently groping a female fan during a photo op has the web buzzing - and the girl in the photo denying.
In the photo, Bieber has an arm around the shoulder of the fan and kissing her cheek, but his other hand appears to be reaching for her chest and taking a handful.
The picture was on the official website bieberfever.com briefly before it was taken down, but as we all know: Nothing can be completely erased from the Internet. The photo has since been shared across several sites, and the girl in the photo even has it for her Twitter's profile picture.
Speaking of the girl, she's tweeted in defense of Bieber, posting: "IM DYING HAHAHAHHAHA IT LOOKS LIKE JUSTIN'S TOUCHING MY BOOB IN THE PICTURE AHAHAHAHHA," and "People can think what they want but I know what really happened & Justin does too so everyone else's opinions don't matter to me." We commend her on her sparkling grammar.
Yesterday, Bieber released the single Nothing Like Us off of his new album Believe Acoustic.