Justin Bieber Gets A Large Owl Tattooed On His Forearm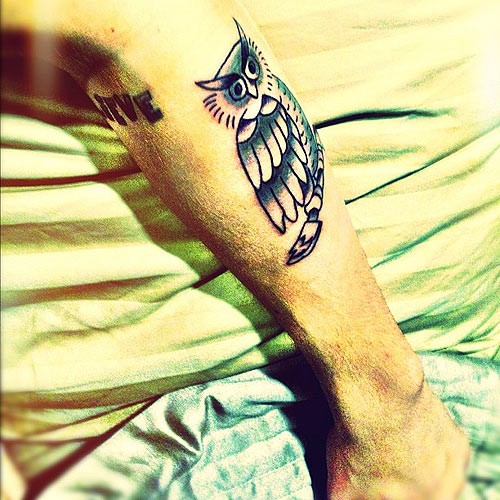 Justin Bieber has gone under the needle yet again, this time getting a large owl inked on his forearm.

The "Baby" singer wanted to show it off before the paparazzi had a chance to snap a shot of the new artwork; he wrote, "befo the paps get me," on his Instagram page to caption the new image.

The singer, who shared the photo with his 3.5 million-plus followers on Sunday, is starting to give stars like Rihanna and Chris Brown a run for their money in the body canvas department.

The new needlework is the singer's sixth tat this year, bringing his overall tally to eight.

His first, done when he was just 16, is the outline of a bird on his hip. Since then he's gotten seven more: "Yeshua," the Hebrew word for Jesus, on his ribcage (his dad has one that matches); a portrait of Jesus on the back of his left leg, praying hands next to the Jesus face, the word "believe" at the crook of his left elbow, a 'Kanji' on his right arm (Japanese symbol for "music"), a crown on his chest, and the owl.