Justin Bieber Gave Fake Name To 911 Dispatcher After High-Speed Chase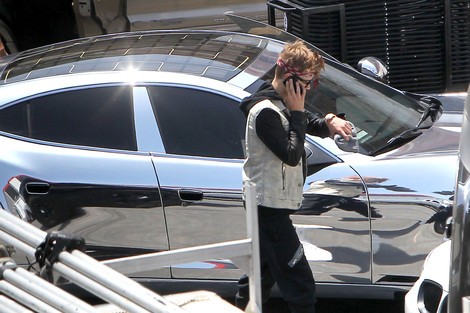 Justin Bieber called 911 shortly after he was ticketed for speeding on a Los Angeles freeway over the weekend. The pop star complained about five paparazzi who continued to chase him after police officers clocked him going 80 mph.
Bieber told the operator, ""I have like 5 cars following me." He added, "They are driving really reckless."
Radio station LA96.3 aired the call, and TMZ posted it. When the operator asked for Justin's last name, he said "Ummm, Johnson," instead of revealing his true identity.
The singer explained that he was driving a Fisker and admitted he was the same person who was previously stopped by police on the 101 Freeway.
"They're the ones that are driving recklessly now, I'm just trying to like not have them be on my tail right now," he explained. "Before I was driving fast so I could get away from them and got pulled over myself."
Officers were alerted Bieber's speeding after receiving 10 emergency calls from drivers who had seen him racing along the road in his luxury Fisker Karma sports car, according to TMZ.com.
Bieber has since filed a harassment complaint against one photographer who was tailing him.