Justin Bieber Flips Out In London, Threatens Photographer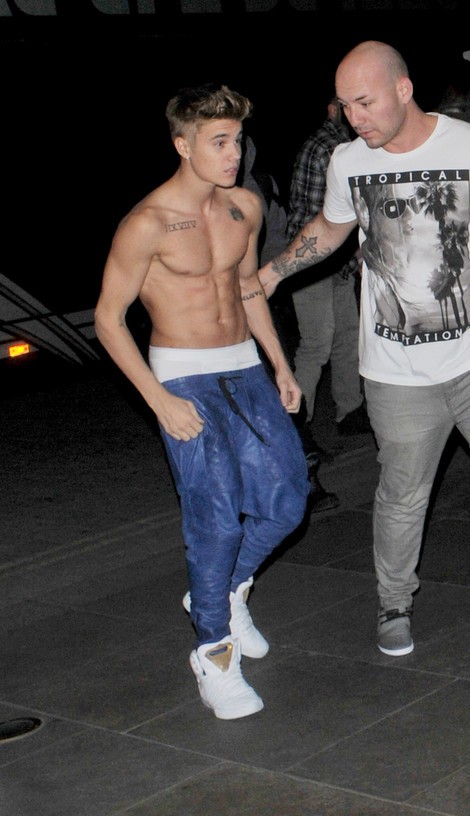 Justin Bieber is starting to lose it. The teen star, currently on tour in London, England, flipped out on a photographer while getting into his waiting car Friday morning.

Bieber was rushing out of his hotel when he bumped a photographer out of the way on his way to his ride when the paparazzo accused him of assaulting him.

A bodyguard tried to calm the situation, but the photog made a few other offhand comments, like, "go back to America... f**king little moron." That angered the singer, who quickly jumped back out of the vehicle to confront the angry man.

Members of Justin's entourage had to keep him from attacking the photographer as he yelled, "What the f**k did you say?" Bieber yelled. "What did you say? I'll beat the f**k out of you."

Bieber's team was able to get him back into the vehicle while the pap continued shouting obscenities at the star and his crew.

Justin later tried to clear things up via his twitter page, writing, "Ahhhhh! Rough morning. Trying to feel better for this show tonight but let the paps get the best of me..."


Sometimes when people r shoving cameras in your face all day and yelling the worst thing possible at u...well I'm human. Rough week

— Justin Bieber (@justinbieber) March 8, 2013
Not gonna let them get the best of me again. Gonna get focused on this show tonight. Adrenaline is high now. Gonna put it on the stage

— Justin Bieber (@justinbieber) March 8, 2013
"Only way someone can break u is if u let them," he added.

Friday's events have now sparked fears about the singer's well-being. During Thursday night's show at London's O2 Arena, Justin collapsed backstage over a lack of oxygen, holding up the concert for about 30 minutes. He finished the show but was taken to a nearby hospital afterward for observation.

Earlier this week he was two hours late for of his shows at the O2 Arena, and he's recently been spotted around London wearing gas masks. He also had a lavish 19th birthday party planned in the city earlier this month, which didn't go as expected. He simply tweeted, "Worst birthday."

Sounds like what seems to be the final breakup between Justin and on-again/off-again girlfriend Selena Gomez isn't working out too well for him.

We hope we don't have to add him to this list eight years from now.