Justin Bieber Flies In A Neat Winged Apparatus At Madison Square Garden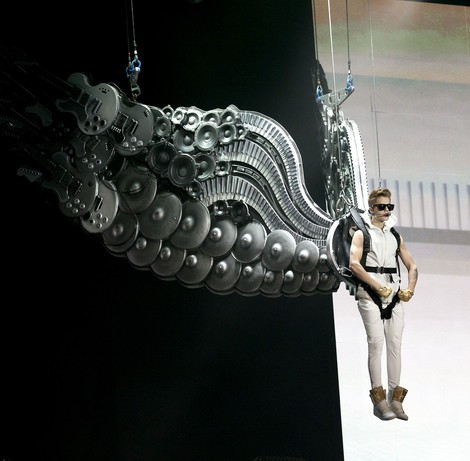 Justin Bieber performed in concert at Madison Square Garden in New York City on Wednesday night, and at one point flew over the stage after being hoisted up by a giant pair of silver wings in the shape of guitars and keyboards.
Bieber made fans swoon in a sleeveless hoodie and gold and white sneakers. He also wore his trademark sunglasses and gold fingerless gloves.
He tweeted this morning, "that was a great show. #smiling."
The Canadian popstar recently made headlines for wearing overalls while receiving a Diamond Jubilee Medal from his country's Prime Minister. Some believed he should have dressed more appropriately for the event, but the PM, Stephen Harper, tweeted in Bieber's defense: "In fairness to Bieber, I told him I would be wearing my overalls too."
See more photos of Justin at the Garden...