Justin Bieber Experienced Breathing Problems During Final London Performance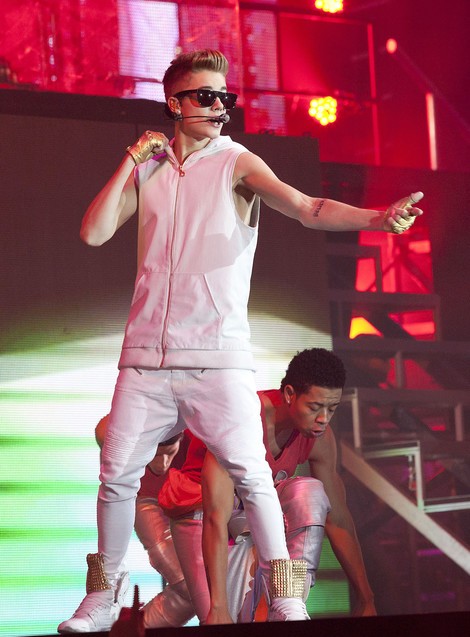 Just hours after a nasty confrontation with a photographer on Friday night, Justin Bieber battled through breathing difficulties to complete his four-day residency at the O2 Arena in London, England.
On Thursday the pop star fainted backstage and was briefly hospitalized. Doctors gave him the go ahead to perform again on Friday.
Shortly before his final concert the singer became involved in an altercation with a paparazzo waiting outside his hotel. Bieber shrugged off the incident and performed as planned.
After the show, Bieber posted on Twitter that he "enjoyed" his time in London, despite his headline-grabbing drama.
He wrote: "Still a little short of breathe (sic) tonight but was an incredible show. London fans go hard! 4 sold out O2 shows in a row!! Blessed.
"Too many blessings to allow the stress in. The press made things look nuts but really I have enjoyed London. The fans are incredible... so while I have seen some crazy stuff it is all smiles. I'm gonna get some rest and keep doing what I love. Entertain all of u (sic). Thanks."
Bieber's time in London has been tumultuous and action packed. Last week he posted that he had the "worst birthday" after his entourage was denied entry into a club, and on Monday fans booed him after he arrived two hours late for his concert.
Despite the drama, Bieber's preacher friend Judah Smith sayd the star is seeking solace in religion.
He told Britain's The Sun newspaper, "He feels under pressure. Every eyeball is on your life. I wouldn't wish it on my worst enemy. This is the first challenge he's had in life, but it won't be the last. I give Justin encouragement. Take time to say to God, 'I'm over my head here. I need your help'. He has coping methods like turning and talking to God and practising the ancient scriptures. We exchange scriptures every day. Justin asks, 'God if you're there, I need help. I don't know what decision to make'."