Justin Bieber Continues Down A Rocky Path, One Year Later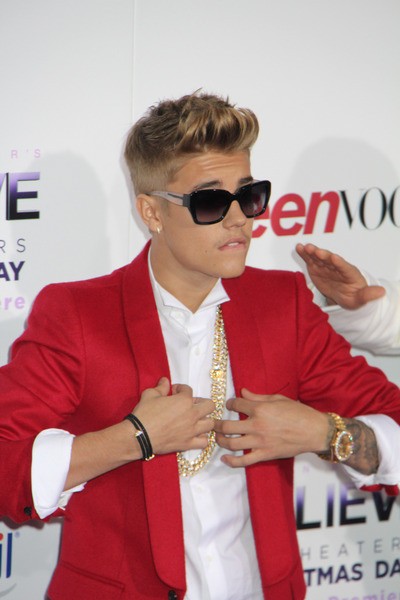 Opinion: After a mixed 2013 (arguably sporting very little 'swaggy'), Justin Bieber begins 2014 with a bang.  Like the majority of headlines in 2013, 2014's headline could result in the pop star's biggest faux pas yet.  Sure, as appalling as it was, it was funny to see Bieber grow so intense last year at the paparazzi, threatening to "f**king beat the f**k out of you," but the present incident really is d-bag move.  Bieber, being the mature and sensible 19-year old that he is, apparently egged his neighbor's house.  Real mature Justin, real mature.  Unsurprisingly, the rebellious Canadian pop star cursed out his neighbor (of course the f-bomb) and seemed proud of his actions.  Honestly, he's the only one that seems to be impressed.
Much like my critical posts last year about the star who suffering from the tremendous growing pains, it seems that Bieber's privilege could one day potentially be his undoing.  For most of us who consider Bieber's behavior to be completely unchecked and out of control, we hope it is sooner than later.   That may sound harsh or hateful, but someone or something is going to have to check this irresponsible Bieber and give him a true reality check. If Bieber previously came over as this humble, innocent kid patterning his musical style and career after Usher, he now comes over as a complete a-hole.  Regardless how he felt about his neighbors or what his intents were, Bieber made a very dumb decision to vandalize someone else's property and seems to show no interest in taking responsibility.
Musically, I'll admit I have criticisms of Bieber – many critics do.  But, much like last year, it seems that Bieber is once more going to let his turbulent personal life overtake his music.  Last year, the approach certainly didn't buy the singer new fans.  Whether this egging incident is part of Bieber's desire for attention, a stupid childish prank, or a mix of both, this has nothing to with Bieber's artistry.  For someone who previously stated he should be taken serious as an artist, perhaps Bieber should begin living up to his words and focus on his craft, not doing dumb things that detract and distract.  Biebz – time to cut the crap and be a 'real man,' not a wannabe.