Justin Bieber Bursting Eardrums And 10 Other Celebrity Lawsuits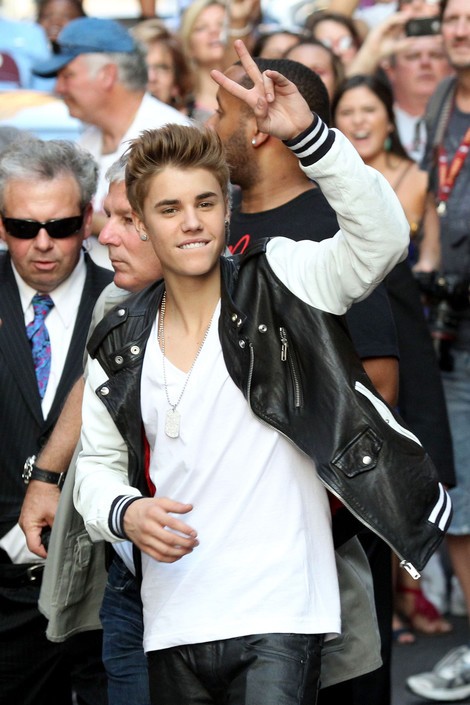 A woman is suing Justin Bieber following an incident at once of his concerts where the pop star urged fans to shriek, causing damage to her hearing. She's seeking over $9 million in damages. Here are some other infamous celebrity lawsuits:
Lindsay Lohan v. E-Trade: The talking babies were a smash hit when they debut during the Super Bowl, and they needed new ads for the next championship game. They decided to have a female baby described as "that milk-aholic Lindsay." Lohan sued the company for over $100 million and settled out of court for unspecified damages. The ad is below:
Postal Service v. Postal Service: Jimmy Tamborello and Death Cab for Cutie's Ben Gibbard decided to make an album, and named their band The Postal Service - after their method of sending music snippets back and forth via the USPS to add their own touches. The album, Give Up, was a critically acclaimed mash-up of indie rock and electronica. One problem: There already is a Postal Service.
The USPS sent a cease and desist, and it appeared there was going to be a lawsuit soon after. However, the duo made a deal to put stickers on new pressings of the CD. They would also have a live show at a USPS conference, and future ads could use their tunes.
Tara Reid v. Sky Las Vegas Condominiums: Reid infamously let her breast hang out of her dress while she was walking the red carpet for Sean Comb's 35th birthday. Sky Las Vegas tried to cash in, putting up ads with the slogan "Dear Tara Reid, Come Let It All Hang Out." She sued and settled out of court.
50 Cent v. Taco Bell: Taco bell wrote open letters to 50 Cent, pleading with him to change his name to 79 Cent, 89 Cent, or 99 Cent in honor of their new value menus. Fans thought Fiddy was in on the ploy, and fans berated him for selling out. He sued for $1 million, and took a settlement for an unknown amount.
Miss California v. Carrie Prejean: Miss California made headlines for her views on gay marriage before coming in second at the Miss USA pageant. After she modeled in skimpy bikinis, the organization fired her. She sued for religious discrimination, and was later countersued for the money the organization gave her for her breast implants. There were two undisclosed settlements and months later Prejean was starring in a steamy home video leaked to TMZ - which is now believed to be the main reason Miss USA terminated her contract.
Dustin Hoffman v. Los Angeles Magazine: The magazine did a spoof of Tootsie by photoshopping Hoffman into a dress that doesn't appear in the movie. Hoffman sued for $5 million, and won a $3 million judgment. That's one expensive photo.
Miley Cyrus v. Asians: Miley Cyrus appeared in an infamous photo pulling on her eyelids to make her appear with slanted eyes, alongside some of her Asian friends. Los Angeles woman Lucie J. Kim sued the pop star for $4 billion (yes, with a "b"), figuring every Asian in the world is owed a $4,000 "apology." The lawsuit was dismissed.
Ron Livingston v. Wikipedia: Ron Livingston was basically trying to bail out the ocean when he sued "John Doe" from Wikipedia for altering his page on the online encyclopedia for claiming he is "a gay." It appears the lawsuit is still around, although his Wikipedia page no longer has the offending line. 
Allan Heckard v. Michael Jordan: Heckhard has the problem of looking like Michael Jordan. While that sounds pretty cool - it might get you in some clubs and restaurants - Heckard was miffed that he was being stalked by fans and all the other troubles of celebrity... without the cash to match! So he sued Jordan and Nike for over $700 million. He lost.
Mariah Carey v. Mary Carey: Almost every star has an adult film star with a riff on their name. Mariah Carey is one of the few to do something about it. She sued Mary Carey and won, forcing the star to change her name should she "act" in any more "films." Last we heard, Mary was out of rehab following a Celebrity Rehab appearance.