Justin Bieber Booed At Halftime Show, Defends Himself Over Overalls Photo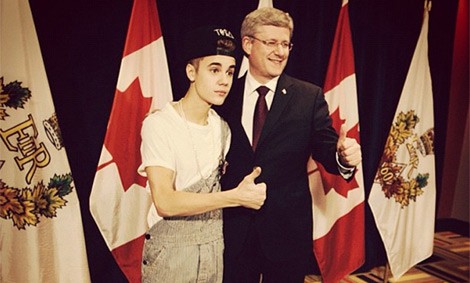 It was a rough week for Justin Bieber. Not only was he booed for performing at the halftime show of Canada's Grey Cup, but he was forced to defend himself after he was attacked in the media for wearing overalls while meeting Canada's Prime Minister.
The Daily Mail's Hayley Peterson referred to Bieber as the "Prince of White Trash" after he wore a white t-shirt, overalls, and a backwards cap to meet Prime Minister Stephen Harper and receive a Diamond Jubilee Medal. Bieber defended himself via an online message: 
"The pic of me and the Prime Minister was taken in a room in the arena where I was performing at that day. I walked straight from my meet and greet to him, if you, "Hayley," expect me to have a change of clothes, get a loan a suit at that specific time, that's crazy. It wasn't like it was like I was going into his environment. We were at a hockey arena. Wow, am I ever white trash Hayley Peterson?"
Stephen Harper tweeted in Bieber's defense: "In fairness to Bieber, I told him I would be wearing my overalls too."
In an apparent backlash (or simply a large crowd of non-Beliebers), Justin was booed later in the week while performing at halftime at Canada's Grey Cup match in Toronto. He performed Boyfriend and Beauty and the Beat, then told "Thank you so much Canada… I love you," despite the boos.