Justin Bieber Beds A Belieber In New Instagram Cartoon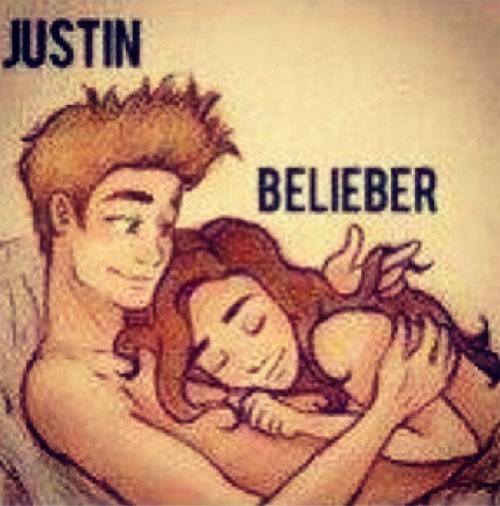 Justin Bieber is making headlines...again. This time it's for a semi-racy cartoon he posted on Instagram. The pop star uploaded a cartoon of himself naked in a bed with a female "Belieber." The singer is depicted lying down, shirtless, with his arms around a brown-haired fan with her eyes closed. She is also naked. He didn't write a caption.
One fan joked in the comments: "Wow i luv how he uploads cewt pics of mi and him." Another added, "Omfg, you're the best idol in the world. You made my day with this picture, srsly. Te amo mi amor x."
Bieber, 19, is a single guy after splitting from long-time girlfriend Selena Gomez earlier this year, and it's very possible that he's hooking up with groupies, ahem, Beliebers, on the side.
He posted a second cartoon image, showing himself shirtless with six-pack abs and the caption: "Ahaha just found this."
In other Bieber-related news, on Friday he visited the Anne Frank House in Amsterdam and was criticized after writing in the guest book: "Truly inspiring to be able to come here. Anne was a great girl. Hopefully she would have been a Belieber."
It's just the latest in a string of incidents that have garnered the pop star world-wide attention. His pet monkey was recently quarantined in Germany and he reportedly threatened a California neighbor who got angry at him for speeding around the streets at 100 miles per hour.  In March, he showed up late and collapsed on stage during a set of concerts in London.
We're curious to see what stunt he pulls off next.