'Justified's' Joelle Carter: Emmy Contender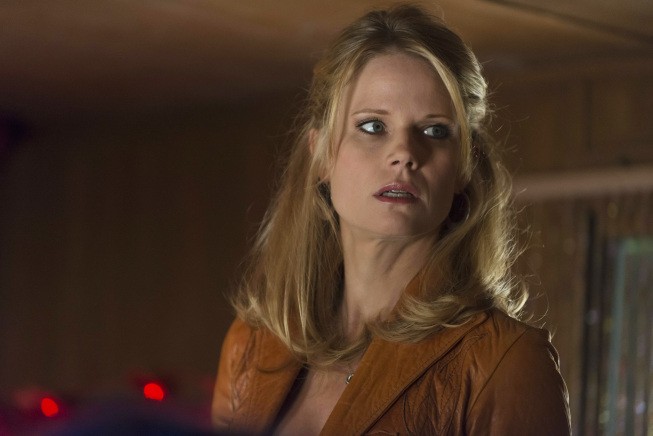 Nominations for the 2013 Primetime Emmy Awards are just over a month away, and there's one name that deserves to be on the Best Supporting Actress in a Drama Series ballot: Justified star Joelle Carter.
No character on the hit FX series has gone through more changes than Carter's Ava Crowder, who began the show as the charming love interest for U.S. Marshal Raylan Givens (played by Timothy Olyphant), before transforming into the criminal queen of Harlan County alongside husband-to-be Boyd Crowder (Walton Goggins). Particularly in seasons three and four of Justified, we've seen such depth in Ava's character. One moment she's stone-faced as she's dealing with members of rival criminal organizations, and the next she's conflicted about having to kill a wayward prostitute that's fled her employ. With her bigger storylines, Ava has become Justified's best and most entertaining female character.
Carter has taken the opportunity provided to her and made the most of it. Watching her in Justified, it's hard to believe that this is the same actress who played John Cusack's adorable ex-girlfriend in High Fidelity. She completely disappears into the part of the tough, yet still very human, shotgun-toting Ava, and she does it with smarts. Where other actresses might throw themselves into the character's new antagonist status, the way Carter plays her, it's always with a hint of what existed before. She makes it possible for us to understand not just who the character is now, but how she became that person. Writers often talk about creating roles that are not black or white, that exist in that grey area of humanity, and what Carter has done with Ava Crowder is exactly what we mean by that. She's sometimes the protagonist, sometimes an antagonist to Raylan, but mostly, she's just a fully realized human being.
In season four, Carter got plenty to sink her teeth into, as Ava and Boyd's search for the mysterious Drew Thompson led them to get tangled up with both the Dixie Mafia and the Detroit mob, while Ava's own past indiscretions came back to haunt her in the person of Ellen May, who knew that Ava was a murderer. To say too much more would spoil Justified's fantastic fourth season, but what happened showed us both Ava determined to protect what was hers and vulnerable in the face of difficult decisions, as well as their consequences. It was possibly her best work on the series to date, but the truth is that she's always been one of the show's strongest performers.
Justified's Olyphant and Goggins have earned Emmy nominations of their own, and deservedly so; they're veteran actors with crackling presence. Yet that should also be another point in Carter's favor, because she's been able to share the screen with both of those gentlemen as an equal. While Winona Hawkins (Natalie Zea) and Rachel Brooks (Erica Tazel) are usually playing supporting roles to Raylan, Ava is the only female character on the series who's found a place comparable to her male counterparts. So why shouldn't her portrayer enjoy some of the same critical acclaim that's been bestowed on her fellow actors? Here's to hoping the Academy of Television Arts and Sciences recognizes Carter next month.
2013 Primetime Emmy Award nominations will be announced on July 18. The 2013 Primetime Emmy Awards will be handed out on September 22. You can also find Joelle Carter on Twitter (@Joelle_Carter). Justified returns for season five in 2014.
(c)2013 Brittany Frederick. Appears at Starpulse with permission. All rights reserved. No reproduction permitted. Visit my official website and follow me on Twitter at @tvbrittanyf.