'Justified's' Cathy Baron On Season 5 And Dares For Charity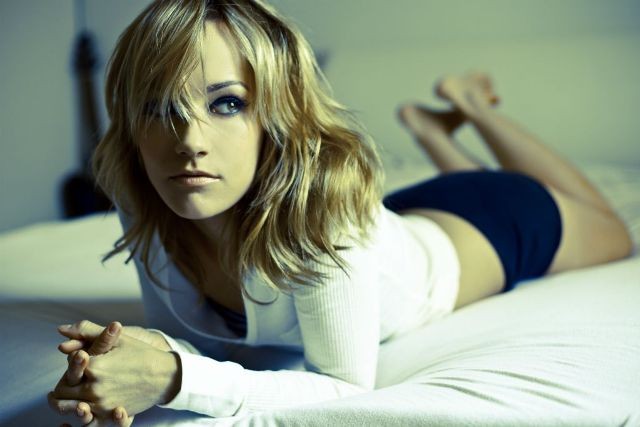 On Justified, Cathy Baron is playing a woman of ill repute. Yet off-screen, she's tirelessly working on behalf of a number of good causes. Last year, Cathy partnered with LifeKraze to promote healthy eating, and now she's on Darelicious raising money for the Leukemia and Lymphoma Society. She rejoined BFTV to talk about her latest venture - which involves a gangster rap video (?!) - and her return to Justified this past season.
Darelicious is a different kind of fundraising platform; instead of offering rewards for contributions, those raising money are, as the title suggests, dared to do something in exchange for the support. In Cathy's case, that's...producing and starring in a gangster rap video. No, that's not what we'd expect from her either, which is the point. "I couldn't pick a dare for myself, so I had other people give suggestions," she told us. "And that was kind of fun."
As to why she chose Darelicious over the increasingly common Kickstarter, she explained, "It's so different and it's fun, and I think that it gets friends and family a little bit more involved. Of course they get the good feeling of donating to a good cause, but then there's also getting to see the person they know and love do something ridiculous."
Cathy doesn't mind doing something ridiculous, because the cause is one that's very personal to her. "I lost my grandmother to leukemia about a decade ago and it's terrible," she reflected. "Everybody's probably known somebody who's died of cancer. But to actually have a family member [affected], and be involved and be very close to it, and see what it does to the person not only physically but emotionally, it's tough. It's very tough." But Cathy and her sister have both turned that heartbreak into a desire to spare others from it, and support the Leukemia and Lymphoma Society.
Back on screen, Justified fans were pleasantly surprised to see Cathy return in four episodes of season five after her character Teri fled Harlan County. Most notably, in her last installment "The Toll", she was front and center as Teri had an important conversation with Boyd Crowder (played by Walton Goggins), and Cathy was thrilled to reprise her role.
"I was really happy," she said. "I had a lot more scenes with Walton Goggins this season and I got to know him a little better. He's so nice and such a giving actor. We had an intimate scene together sitting at the bar, and he spent time making sure I was comfortable and happy with how our interactions were going.  He encouraged me to play around with each take and he didn't have to do that.  It was just really cool to have a scene with him where he's not trying to kill me!"
Does her guest appearance mean we might see more of her in Justified's forthcoming final season? Even she's left in the dark for now. "They didn't kill me off. That's usually a pretty good sign," she told us. "But I really don't know. I hope I am, and it's set up to where I could."
In the meantime, she's been busy on other projects, including the yet-to-be-released short film Trigger Man opposite Southland's C. Thomas Howell. And she's still looking ahead to the next great role. "There's a lot I would love to do," she reflected. "I would love to play someone who has so many different crazy emotional issues, kind of like Meryl Streep in that movie August: Osage County. I think that would be so much fun. I'd love to play a villain. I'd love to play the person who's not a villain. I want to do everything!"
For more about Cathy's campaign, or to make a pledge yourself, visit her Darelicious page (darelicious.com/dares/details/184/cathy-baron-wants-to-get-gangsta). For more on Cathy herself, check out her official website (cathybaron.com) and follow her on Twitter (@cathybaron).
(c)2014 Brittany Frederick. Appears at Starpulse with permission. All rights reserved. No reproduction permitted. Visit my official website and follow me on Twitter at @tvbrittanyf.