'Justified: The Complete Third Season' Blu-Ray Reviewed
As the fourth season of FX's hit series Justified begins tomorrow, Sony has recently released Justified: The Complete Third Season on Blu-Ray and DVD. Here's a look at what's inside the Blu-Ray version of the title.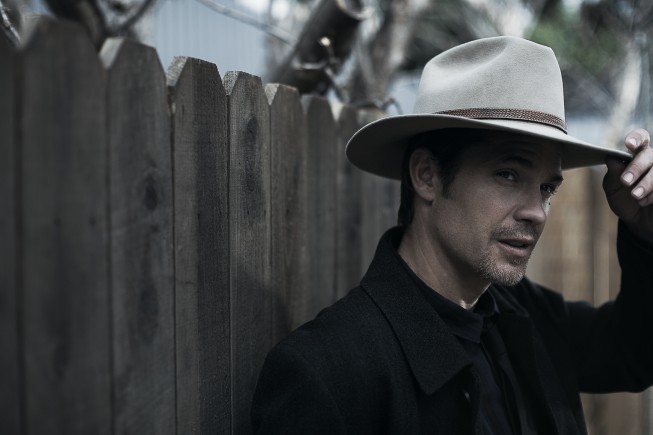 There's not much to say about Justified that hasn't already been said after three seasons of deserved critical acclaim. The series is one of the best on television. It's anchored by Timothy Olyphant (Live Free or Die Hard, FX's own Damages), who gives one of the great individual performances in the history of the medium - it's a crime that he hasn't won an Emmy yet. No one else could play sharp-witted, no-nonsense Raylan Givens but Olyphant.
While he's the undisputed center of the show, he's surrounded by formidable supporting players in Walton Goggins (The Shield) and Joelle Carter (High Fidelity) as Raylan's old acquaintances who are now the reigning criminal couple of Harlan County, Boyd and Ava Crowder.
When it comes specifically to season three, this isn't Raylan's best outing but it's still better than ninety percent of what's on television today. The big bad of the season is Robert Quarles, played fantastically by Neal McDonough (Desperate Housewives), who is an equal sparring partner for Olyphant. McDonough and his former Boomtown co-star Mykelti Williamson are welcome additions to the series. The existing characters are well serviced, too, with Boyd and Ava's storyline being just as interesting as Raylan's more often than not.
Unfortunately, Raylan's personal life continues to be the weak link in Justified, as his on-again affair with ex-wife Winona Hawkins (Natalie Zea, Dirty Sexy Money) is still the least interesting part of the show and introduces a plot development that makes you wonder just how the writers are going to handle it in season four. However, that's one flaw in a show that's entertaining and compelling from start to finish.
The Blu-Ray release of Justified: The Complete Third Season is another solid title from Sony, which has done a great job with the home versions of the series to date. The transfer of the episodes is near presentation-quality, with the picture doing justice to the show's many great shots and the audio crisp enough to make even the smallest sound effect register. If you own either or both of the first two seasons, you know the high quality you're getting with this series.
Sony has also put together an interesting array of special features for a show that has a lot to be talked about. There are commentaries on eight episodes with various production members - all of which are pretty interesting listens - and the usual miscellaneous deleted scenes and outtakes.
Where the set really shines, though, is in a trio of featurettes. You get nearly 20 minutes out of the season's making-of, which is much more interesting than the usual segments of the same type. On disc two, production designer Dave Blass walks us through how he and his team created Noble's Holler, and it's great to see Justified's set design folks front and center after three seasons of them doing a wonderful job making California look like Kentucky.
The crown jewel of this set, though, is a 27-minute "conversation" piece between Olyphant and Goggins. Fans of Justified know how much the show rests on these two gentlemen and their characters' ever-evolving relationship. Both actors are the kind of well-spoken, engaging folks that featurettes like these were made for, and putting them together results in a truly fascinating piece of film. It's so good it will make you wish every TV season set came with a feature like this.
With superb video and audio quality, plus an impressive array of special features, this release continues the tradition of Justified sets being among the best in TV on Blu-Ray. Fans will need no persuading to add this Blu-Ray set to their collections, and if you somehow haven't discovered Justified yet, rest assured that this is a series worth giving a shot.
You can purchase your copy of Justified: The Complete Third Season on Blu-Ray and DVD today. Season four of Justified premieres tomorrow night at 10 PM ET/PT on FX.
For more from Brittany Frederick, visit my official website and follow me on Twitter (@tvbrittanyf).
(c)2013 Brittany Frederick. Appears at Starpulse with permission. All rights reserved. No reproduction permitted.