'Justified' Recap: 'Where's Waldo?'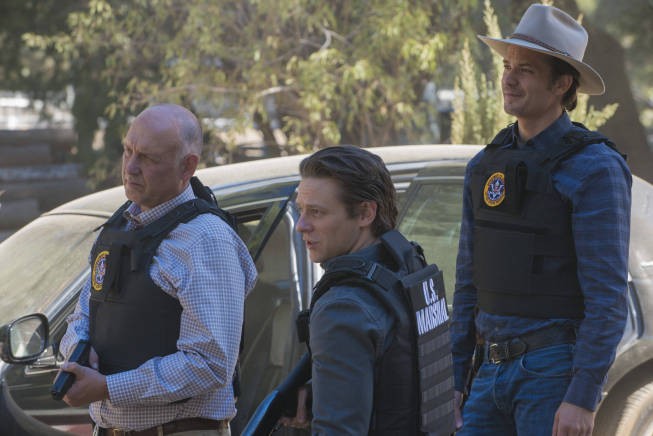 Justified may have started slow last week, but with Tuesday's episode, the FX drama has come roaring back.
If you couldn't figure it out from the title, Raylan is looking for Waldo Truth - when he's done sleeping with Lindsey and then volunteering to help her with the bar's impending delivery. When he says "How hard can it be?" you know something is going to go wrong. In this case, a random guy walks into the bar, says a few things that he probably thinks make him sound tough, and wanders back out before Raylan can figure out what his issue is.
Meanwhile, Ella Mae tells Ava about the "salvation" she found at the Last Chance Holiness Church, and how she wants to save her soul. Ava is not impressed and tells Ella Mae that either she'll be back at work, or she'll never be back. And Art - who else missed Art? - is talking with one of his colleagues about how dysfunctional all his employees are. The best line is, of course, about Raylan: "Internal Affairs has him on speed-dial." One has a feeling that this is not the first time Art has had this conversation with someone.
Art's next job is to tell Raylan about the murder Arlo committed at the end of last week's episode. In return, Raylan tells Art about the bag he found in the wall of his father's house and the ID that he found in the bag. Art is not impressed. He and Raylan pick up some mighty big guns while Tim reads a litany of things their next person of interest has done. Road trip! With some apparently great barbecue.
While Ava, Johnny and Boyd confer about Ella Mae's apparent conversion, Ella Mae visits Preacher Billy at the church for some reassurance, then Boyd and Colt go on to pay an unfriendly visit to some other random guy in which Colt rambles more about his messed-up history. This guy clearly needs a therapist to vent to. Random guy number two is revealed to be a heroin dealer, and Boyd would like to have some words with his people. Even with the violence, this whole scene is much less uncomforable than the army of small children from the church that Boyd runs into a minute later. They are far too happy for this show.
After that experience Boyd pays a visit to Shelby the Sheriff (guest star Jim Beaver) and asks what he knows about the church. After a chat about squares and circles, Shelby tells Boyd he can't be part of his business anymore, and Boyd counters that he's a concerned citizen who thinks they have a cult in their midst. Shelby relents and hands over a file about Preacher Billy and his sister. Seems they've been in five other cities before, all of them in similar circumstances as Harlan. This convinces Boyd that they must be up to something.