'Justified' Recap: 'Truth or Consequences'
At episode's end, Raylan returns to the bar to find it packed, and Rachel waiting for him. She asks if he found Randall, and he admits that he's surprised that Randall didn't show up. This makes him curious as to where Lindsey is, and Raylan heads upstairs to find his place trashed and his girlfriend gone. "Guess she got tired of waiting," Rachel remarks, while Raylan processes being left again.
"Truth or Consequences" is an interesting middle chapter in the story of season four - it's not a whiz-bang episode but it does move the various plots along. Johnny being willing to betray Boyd is the juiciest development, as we know the odds are against him and Duffy, who took plenty of abuse last season being allied with Robert Quarles. And lastly but not least, the whole impromptu post-snake attack surgery scene was downright stomach-turning, but that's Justified for you. Last season someone lost an arm, and now we've got snake parts being removed from people's faces.
With the Lindsey subplot winding down (hopefully on its way to being concluded next week), and Theo Tonin back in play, things are sure to heat up - and that's when this show is at its best. Look for the series to pick up some momentum quickly, especially since we're already about a quarter of the way through the 13-episode season.
One more tidbit for Justified fans: Raylan Givens himself, Timothy Olyphant, will be guest-voicing on this week's episode of Archer, also on FX. He plays ex-spy Lucas Troy, one-time BFF of main character Sterling Archer, who makes a sudden reappearance. Archer airs this Thursday, January 24, at 10 PM, and here's a glance at what Olyphant looks like animated.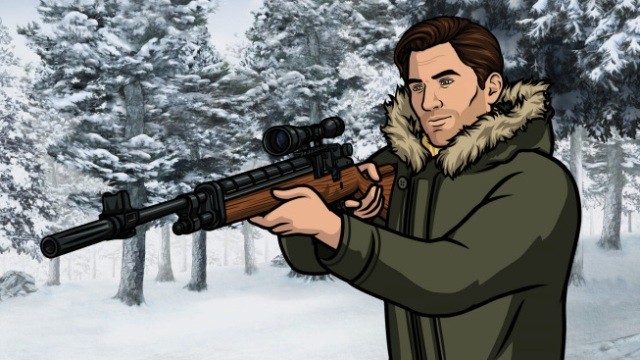 For more from Brittany Frederick, visit my official website and follow me on Twitter (@tvbrittanyf).
(c)2013 Brittany Frederick. Appears at Starpulse with permission. All rights reserved. No reproduction permitted.