'Justified' Recap: 'Thick As Mud' (3.05)
There's a lot going on in this week's Justified, and quite a few familiar faces. If "Thick As Mud" has a particular pop to it, it's because Elmore Leonard has a co-story credit for this ride.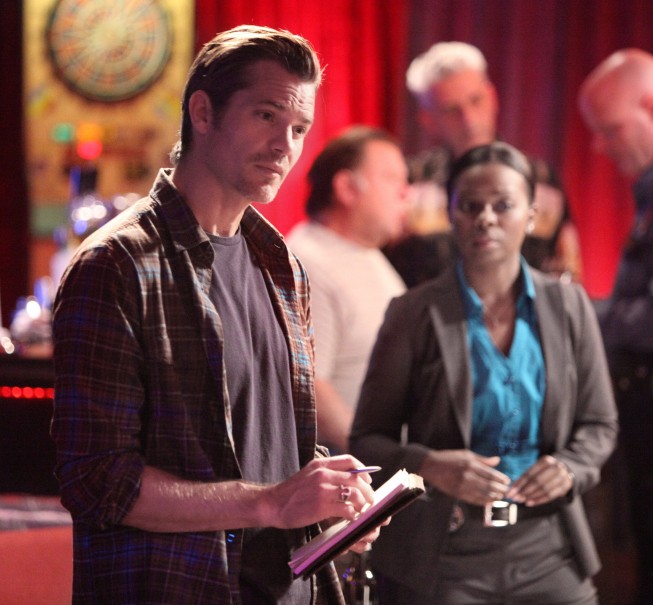 While Limehouse is determined to keep Dickie (and anyone else) away from what remains of Mags' money, Boyd and Arlo are burying Devil's body after his bloody end, and Raylan's relationship with Winona is as rocky as it's always been...and oh crap, Dewey Crowe is missing some internal organs. That last part is courtesy of that creepy prison nurse Lance (Clayne Crawford), who just will not go away.
In an effort to buy back his parts from Lance, Dewey decides to commit a carjacking, and that's where the Marshals Service comes in. Raylan and Rachel find the scene of the involuntary surgery and it doesn't take them too long to figure out what happened.  As Dewey continues to commit robberies to round up enough cash, they track him from appliance store to strip club to laundromat. Raylan goes to the hospital to interrogate Officer Murphy about what he knows (in a way that only Raylan can do, withholding his morphine), and that's where he meets nurse Layla (yes, that is Psych star Maggie Lawson in a much different role!) . If you think she's too sweet, being that she's played by such an adorable actress, you're totally right.
When Dewey nearly gets his head blown off in a convenience store and ends up trapped in its back room, it's up to Raylan and Rachel to talk him out. Raylan proves to Dewey (and us) that Dewey's had both his kidneys the whole time, which makes him wonder what the real deal is. He goes back to Layla and this time he's much more suspicious of her...justifiably so because Lance is her boyfriend and he knocks Raylan unconscious. Layla isn't happy with this change of course, and shoots Lance. Then Raylan shoots through Lance to hit her back. He has the most interesting ways of getting out of situations, but that's part of why we love him. Unfortunately for him, the woman he loves has cleared out of her house by the time he gets back.
Meanwhile, Boyd wonders if he can handle Quarles and his minions, despite Ava's reassurances. It's so good to see Joelle Carter back this week; much like Erica Tazel lends a strong female presence to the Marshals, she does the same for the Crowders. Emboldened, Boyd goes in search of Tanner, the guy who turned Devil, and has Johnny give him a little deserved punishment. Yes, the man in the wheelchair can still dispense a putdown. This leads to a meeting with Quarles, who wants to play nice as long as Boyd is willing to play along with him, but Boyd is not bothered by him in the slightest. If he's not spooked by Raylan, why would this jerk in a three-piece suit get under his skin? Quarles doesn't know how to react to that, and he'll have some time to stew on it.