'Justified' Recap: 'The Toll'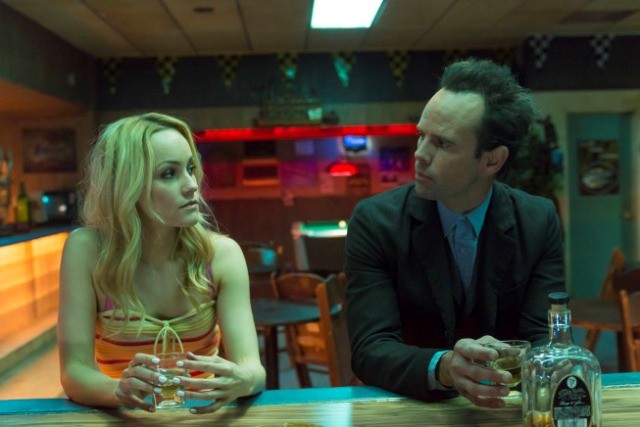 There are only two episodes of Justified's fifth season left after tonight, so it's no surprise that things have been getting real for awhile now. The death of a Crowe last week is just the beginning of the usual mayhem that leads up to a Justified season finale. Part two is - after foreshadowing it with several episodes of his being limited to ominous cameo appearances - putting Art Mullen in the line of fire.
Having murdered Judith in the prison chapel, Ava is cleaning up in the nearest bathroom when Penny (Danielle Panabaker) appears, and the two try to act like nothing is wrong. It's only a few moments before alarms sound and prison guards are making their way through. Meanwhile, Teri (our friend Cathy Baron) is back in Harlan County, and she's trying to make a move on Ava's ex-fiance Boyd. He rebuffs her, however, as he's got business with Wynn Duffy.
How does Art factor into things? As mentioned last week, he agreed to personally oversee the welfare of Raylan's ex-girlfriend Alison Brander (Amy Smart), and he's really not giving a damn about the details of her relationship with his most troublesome employee. Alison needles Art about having punched Raylan; Art responds by jokingly asking if that would count as "child abuse." But when they step out of Alison's apartment, shots ring out. We're momentarily led to believe it's Alison who's been shot in the stomach, but unfortunately, that's not the case.
Raylan has the unenviable task of escorting Art's wife to see her wounded husband. Mrs. Mullen wants to know why her husband didn't have any backup, particularly from him, and he doesn't know what to tell her. They arrive at the hospital, where Tim and Rachel meet them, along with a doctor who informs everyone that Art's condition is "extremely critical." Our Marshals begin to theorize about who could be responsible for the shooting, starting with Daryl Crowe. Tim suggests they catch up with Daryl before Art's interim replacement shows up and takes control of the investigation, but Raylan leaves alone.
He returns to the Marshals Office, where AUSA David Vasquez (Rick Gomez) informs him and said replacement, Ed from Detroit, that Theo Tonin has confessed to ordering the shooting and is willing to name the trigger man. That sounds far too easy.
Elsewhere, Boyd meets with Duffy, Picker and Duffy's business assocate Katherine Hale (Mary Steenburgen) to discuss how half of their drug shipment was lost. He explains only that things happen and that he has the other half as an insurance policy to ensure that he leaves the hotel room alive. Katherine asks him why Duffy shouldn't kill him, but Boyd doesn't get a chance to answer as their conversation is broken up by a half-dozen U.S. Marshals. Everyone but Raylan thinks Picker was the shooter, and Picker is not thrilled when Raylan informs him that he's the prime suspect. He says he heard Daryl is the responsible party, but of course the Marshals are having issues finding the elder Crowe - until Wendy (Alicia Witt) phones and says Daryl wants to turn himself in, but only to Raylan.
When Raylan shows up to claim Daryl, he sees the injuries that Wendy suffered at his hands near the end of the previous episode, though she doesn't want to talk about them. She does inform him that her brother isn't actually there; big surprise. He's actually decided to show up at the Marshals Office, where he's promptly taken into custody at gunpoint. Once what remains of the Crowe family is reunited at the office, everyone is surprised when Kendal tells them he "didn't mean to hurt that old man." He then proceeds to confess to the crime, claiming that he got hold of Danny's gun and went to Alison's apartment intending to talk to her again, but saw Art's badge and panicked.