'Justified' Recap: 'The Hatchet Tour'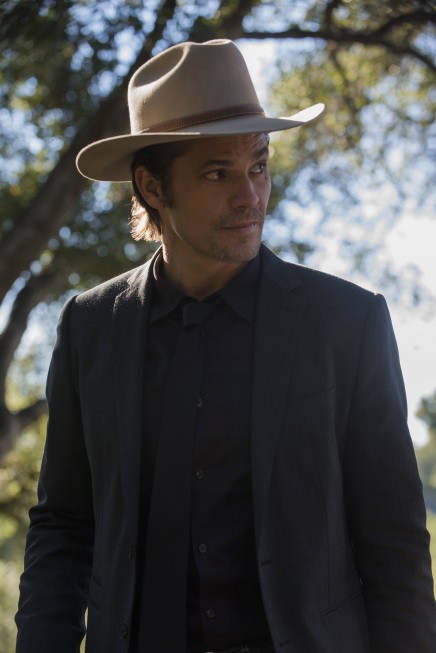 "The Hatchet Tour" is the ninth episode of Justified's fourth cycle, meaning that after Tuesday, we're officially into the last quarter of the season. That's the perfect time to finally reveal the identity of Drew Thompson. But then what?
The episode opens on a very cranky note. Tim is not happy to find his friend Mark's dead body at a drug dealer's house. He cooperates with the investigating officers, but it's clear the wheels in his the most underappreciated Deputy Marshal's head are already turning. Elsewhere, Tim's psuedo-partner Raylan is collecting Hunter (guest star Brent Sexton) from prison, so it's not a good day for anyone. Including Art, whose response involves expletives and yelling. "Call him and articulate to him my extreme displeasure," Art's tirade starts, and it ends with "and that's where his nightmare will begin." One imagines the Chief Deputy gets bulk size bottles of Advil for the holidays.
Tim calls Raylan, who insists that he's going to drop Hunter off safe and sound at his new destination once he gets some information out of him. He says that just moments before his Lincoln rolls up outside Wynn Duffy's (guest star Jere Burns) motorhome. Raylan tells Duffy how the expression "hashing it out" came from the French word "hatchet" (hence the title of the episode!), and how he thought he'd put Duffy in the same room with Hunter and see what happened. What happens is that Duffy asks him if he's got any particular ideas about what to do with Hunter, while the former sheriff is standing within inches of them both. Awkward.
While this is happening, Ava and Boyd are house-hunting. Lest you think you've accidentally switched over to HGTV, Ava tells Boyd that the place they're examining looks familiar because her mother used to clean it, and then shortly thereafter tells the elitist real estate agent to shove it. Somewhere in that, Boyd thinks he just got one step closer to finding Drew Thompson. He and Ava arrange a surprise meeting with Ellen May's last client, at the same time that the late Pastor Billy's sister Cassie (guest star Lindsay Pulsipher) turns up looking for the missing girl.
Hunter rolls out of the back of Raylan's Lincoln and tries to commit suicide by oncoming truck, but Raylan pulls him out of the road just in time and knocks some sense into him (literally). The next thing that happens is that Sheriff Shelby rolls up behind them and pulls our hero over to get the 411. He and Raylan have different ideas when it comes to how to get Hunter to talk, but that doesn't stop Shelby from inviting himself along for the rest of the field trip.
When Colt arrives at the bar, Boyd tells him what Cassie said to Ava about Ellen May having left word yesterday, so clearly Colt didn't do his job of bumping her off. He dispatches Colt to the Last Chance Holiness Church to see if he can find Ellen May there, and as Colt freaks out in the bar's parking lot, Tim is watching him from across the street. When Colt departs for the church, Tim decides to follow him.