'Justified' Recap: 'The Devil You Know' (3.04)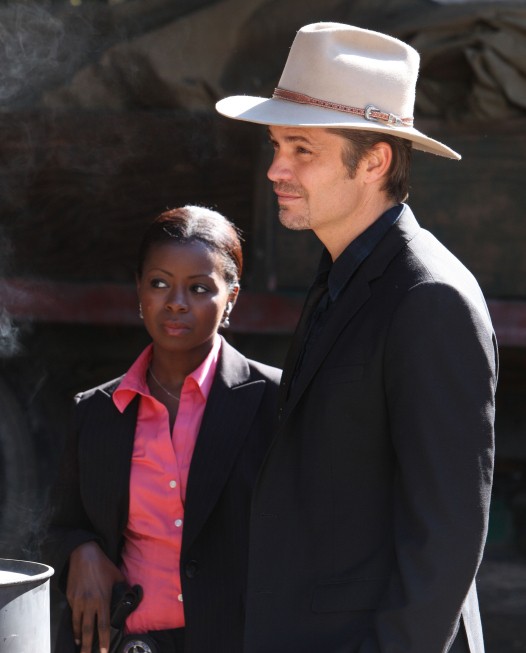 Justified: just when you think you've got it figured out, it keeps unraveling and then it punches you in the stomach. And it's worth all the pain, because it's the best series on TV.
This week, Devil's a little restless, but that's because he's got a meeting with Quarles. What the heck is going on? One of those instances where someone thinks they're bigger than they are, that's what. After his conversation with Boyd last week, Devil is twitchy, and Quarles does his best to make him feel important. "This is an opportunity that only happens once," he teases, and Devil is listening.
Meanwhile, Dickie Bennett and Dewey Crowe are getting beaten solidly in prison, which was part of a plan Dickie had concocted with Murphy (Todd Stashwick) to get Dickie out of prison. Dewey gets a needle in the neck, and that's when it becomes clear to Dickie that he's in another really bad place. He ends up smuggled out of the prison in a body bag, with Dewey and orders to fetch his mother's money.
Later on, Raylan and Rachel are taking a report from the less-than-above-board orderly (Clayne Crawford) about the escape, before Raylan pays a visit to Loretta (Kaitlyn Dever) to see how she's doing, and ask what she knows about the money. There's someting great about the two of them together. Loretta sends Raylan and Rachel in search of Ellstin Limehouse. In the resulting conversation, I love how Rachel's straightforward approach contrasts with Raylan's snark, plus we learn that she's from Tennessee and graduated from Ole Miss. It's character development and thematic development in the space of one scene.
After Raylan and Rachel leave, Limehouse gets a phone call from Dickie, who happens to be in a questionable motel with a half-dozen of his new friends. And Devil reappears at the bar with Boyd, just moments before Raylan pops in, telling Boyd (and us) about the first time he met Limehouse, when he was much younger. He's suspicious of why Limehouse didn't remember him. Boyd wants to know why Raylan was talking to Limehouse at all, and Raylan tells him about the escape. In return, Boyd tells Raylan about Murphy, while Devil tries to turn Johnny against Boyd. And it all starts to make sense...
Raylan's parked in plain sight outside the questionable motel, which makes it easy for Murphy to peg him. Murphy makes the mistake of drawing on our favorite U.S. Marshal, so Raylan hits him with his car not once, but twice. Let's add another awesome point to the legend of Raylan Givens. Leaving Murphy on the ground to think about what he's done, Raylan gets to the motel room just steps behind the bad guys.
While Rachel is in charge of a roadblock and unafraid to deal with upset truck drivers, Raylan plots to intercept Limehouse's rumored money drop and try to keep Dickie alive, even if he doesn't want to. At his mother's old store, Dickie nearly gets his head blown off until Limehouse comes to his rescue. He also finds out there's about $46,000 of his mother's money left, well short of the $3 million he expected. That makes him refuse what's left, possibly because he needs an ally more than money.
By the time Raylan arrives, he finds Dickie sitting alone with the bodies of two of the thugs and a shotgun. At least he made out better than Dewey, who's Saran Wrapped to a chair in the questionable motel and promptly knocked unconscious again. It's like a scene out of the Kentucky version of Dexter.