'Justified' Recap: 'Shot All To Hell'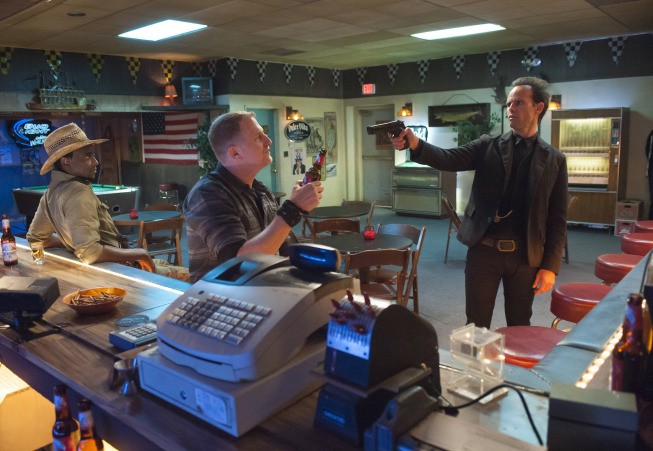 So where's Raylan been during all this nonsense? He's talking with AUSA Vasquez (Rick Gomez), explaining his desire to reinstate Daryl's parole and kick the Crowes out of Kentucky. Vasquez puts Raylan off, because Art has Picker in the conference room. This confounds Raylan. Tim and Rachel inform him that Art went to Detroit last week, in their cameos for this episode. Raylan wants a shot at Picker, given that he set Raylan and Winona up for murder last season, and he gets it when Art convinces Vasquez to leave the room. Picker reminds Raylan that he's in a position to blackmail our hero given last season, but Raylan really doesn't care. As if we expected him to?
Boyd is having another meeting with Hot Rod Dunham, who wants to make "reparations" for partnering with Boyd's duplicitous cousin Johnny to steal Boyd's drug shipment. Boyd rejects that idea; what he wants is Johnny, and help smuggling cocaine across the border. Hot Rod has to think about the first and isn't interested in the second. After that, Boyd goes to have lunch with Paxton's widow and Sheriff Jackass, both of whom look like they really don't want to be there. They should've listened to their gut instincts, because moments after Boyd leaves the table, one of his associates walks in and shoots Sheriff Jackass twice. In broad daylight. With about a dozen witnesses. Boyd calmly steps over the body and informs Mrs. Paxton that not only is he not paying her any money, but she's going to leave Harlan County and never return.
Ava finds out from her attorney that Paxton's "suicide" and the sheriff's murder have collapsed the case against her, and the presiding judge is prepared to dismiss it. She'll be a free woman "first thing in the morning." A relieved Ava shares an emotional moment with Boyd.
Wendy returns Daryl's younger brother to him, while giving him a lecture, too. She quickly deduces that Daryl wants her to come up from Miami to ride herd on the dysfunctional family. An unamused Wendy suggests to her brother that he do "the old thing." Before we find out what that is, we get Raylan emerging from the back of a semi truck into a warehouse. He and Art are looking for hidden compartments, but their search is rudely interrupted by Alan Tudyk, who's got a huge gun and would like to kill both of them. A brief gunfight ends with Raylan shooting Tudyk in the back, which he's okay with but Art is bummed about, because Tudyk was their last link to Theo Tonin. This carries a certain degree of irony since Adam Arkin, who plays Theo, is the director of this episode.
Speak of the devil: as the corpse is taken care of, Art, Raylan and Rachel find Theo Tonin, looking like death warmed over from where he's been packaged up inside one of the shipping containers. Well, that's one way to travel.
Danny Strong is back in this episode as the sleazy prison guard, and in one of the truly gross moments in Justified history, stabs himself with a planted weapon in front of Ava in order to blame it on her and delay her release. This time, no one's coming to Ava's rescue; her cellmate immediately turns on her, insisting that she did it.