'Justified' Recap: 'Peace of Mind'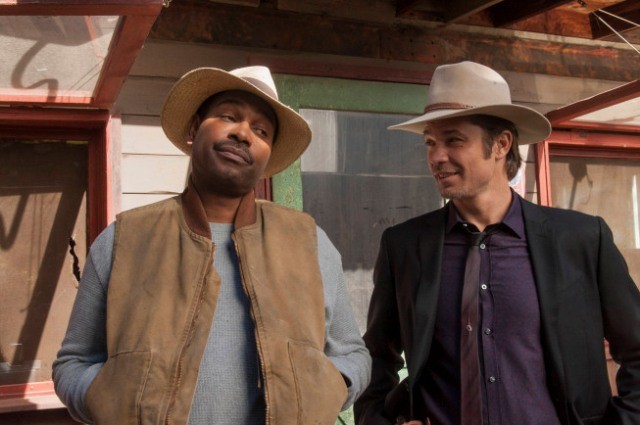 With only two episodes of Justified left this season, things are going full tilt in Kentucky. As we finally get an update on the impending Raylan Junior (what with Natalie Zea being on The Following and all), her father is getting some mild applause from his colleagues for the whole Drew Thompson thing ("Does this mean you're finally getting a haircut?" Rachel quips). Drew is in the conference room, meeting with the AUSA (guest star Rick Gomez), because he's demanding protection for Ellen May. Raylan's response is "Stick it up your ass."
Where's Ellen May? She's with Ellstin Limehouse (guest star Mykelti Williamson), telling him she figures that she's going to end up dead either way the chips fall. Cut promptly to Boyd and Ava, listening to a ranting, pissed-off Colt (guest star Ron Eldard), who's trying to convince them to off both Cousin Johnny and Ellen May. Once Boyd gets Colt to shut up, he confers with Ava, saying that "we go after Limehouse. If we want Ellen May back, we're gonna have to take her."
Back at the Marshals Office, Art admits that he's not a Julia Roberts fan and stops Raylan from going to fetch Ellen May, deciding to send Tim and Rachel instead. "Don't take away the one thing I know how to do," Raylan argues, bargaining with Art, desperate enough that he agrees to take both his fellow Marshals with him. As Art points out, Raylan probably doesn't know what a vacation is. Or a suspension, for that matter.
Also in an unhappy position is Johnny (guest star David Meunier), who's now chatting with Nick Augustine (guest star Mike O'Malley), who says "There might still be a way for us to work this out." Not any good way, though: he, too, wants Ellen May. With Augustine watching, Johnny phones Limehouse, who doesn't want to do business with him. Johnny realizes Limehouse has already made a deal with Boyd. Never mind that Boyd is plotting an attack on Noble's Holler as he speaks. He promptly gets a call from Augustine, offering to give him both the money to retrieve Ellen May and his traitorous cousin. 
Boyd, Ava, Colt, Johnny and Augustine all thus have a little get-together at the bar. "I'm gonna need Google Translate on my phone to keep talking to you," Augustine comments when Boyd starts wondering what his motives are. After a whole lot of blustering, Ava interjects and says the only way the deal for Ellen May will work is if she goes up to Noble's alone, which everyone else consents to.
Yet Raylan gets there first, with Tim and Rachel in tow. Raylan calmly tells Limehouse that he's only asking if Ellen May is there as a courtesy, to which Limehouse responds that they're welcome to search the place, which Raylan decides the state police will do both to back up his words and because Limehouse insulted Rachel. Leaving Tim to oversee the search, Raylan takes Rachel with him to Harlan, because he knows Boyd will be involved somehow.