'Justified' Recap: 'Outlaw'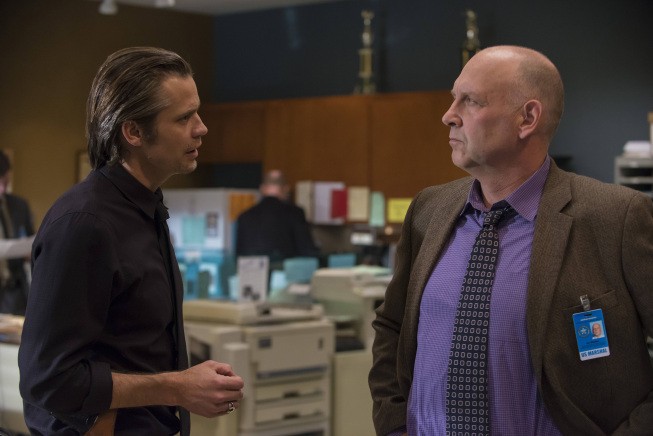 In the universe of Justified, everyone bleeds eventually. This is one of those installments.
Since he's had such great luck with prison conversations (see last week's episode), Raylan decides to pay a visit to former Sheriff Hunter (Brent Sexton, Life) to see what he knows about the mysterious Drew Thompson. Hunter is more amused than interested, and wants to know why Raylan cares. He doesn't get a straight answer.
Later on, Arlo is being hauled in for an unscheduled shave, appearing pretty much comatose. Hunter appears out of nowhere and knocks the barber unconscious, but before he can do whatever he's plotting to, Arlo jumps out of the chair and strikes first. The end result is a bloody brawl that leaves the elder Givens with a pair of scissors sticking out of his chest. And...roll opening credits.
Back at the Marshals Office, Drew Thompson's widow is going through mug shots for Raylan, who can't believe she doesn't know what her husband looks like. "Your bullshit makes me think you're holding something back," he says, but doesn't press too much further because Art summons him, while Tim sits at his desk looking like "Not this again." Art tells Raylan about the attack on his father, and while our hero says he's okay, the sad piano informs us that it's unlikely his father will be around much longer. As has been previously established, Raylan does not really mind.
Boyd meets with the man that he's been sent to kill, and point-blank tells him that he's been told to bump him off. Frank Browning is surprised by this advance warning. "You want me to pay you not to kill me?" he asks, laughing, and kicks Boyd out of his house. This sends Boyd right back to the bar, where he tells Colt (guest star Ron Eldard) the involuntary assignment is now more than a one-man job.
Their impromptu planning is interrupted by the arrival of Wynn Duffy (guest star Jere Burns), referencing Josiah Cairns. "His situation has further alarmed our friend in Detroit," he says. "Theo wants Drew found, now." And to that end, he's sending reinforcements down - a guy who's "killed more people than malaria," according to Duffy. Boyd suggests that he has two names and the hitman could just kill both of them. You know, to play it safe.
But the new company is already in town. A fake sheriff beats everyone to the punch by showing up at Frank's house, and although he's "not the correct target," kills him and his associate anyway.
The real law enforcement, Shelby (guest star Jim Beaver), arrives home and chats with Ellen May about how his ex-wife left him and her mother abandoned her. Before he can press her about why she wants to get right with God, his phone rings. Cut to Colt visiting the not-so-friendly neighborhood drug dealer for a loan. This quickly disintegrates into Colt stealing the other man's gun and shooting him dead with it before taking all his money. Yet before Colt can make a clean getaway, he finds somebody in the kitchen: Tim Gutterson's unfortunate friend Mark.  "It's gonna be like I was never here, right? Like this never happened," Colt tells him, and then shoots him anyway.