'Justified' Recap: 'Harlan Roulette' (3.03)
If you want to see just how far Justified has come, "Harlan Roulette" is the episode to look at. Colorful, intriguing and at a few points unsettling, it's the complete package.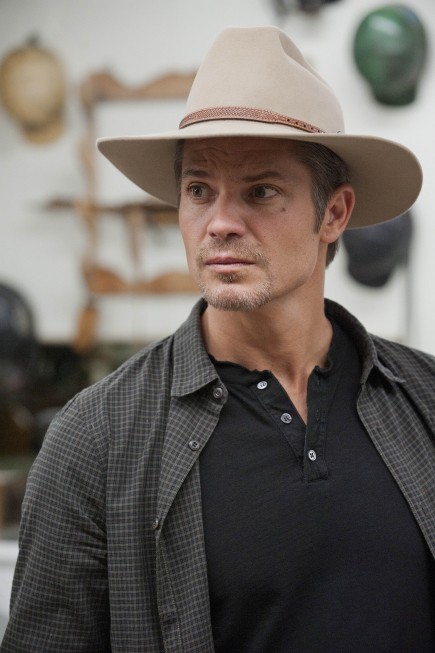 Ellstin Limehouse is having words with Ava. He says she looks good, and she replies "better than the last time we saw each other," which is just one heck of a loaded sentence. She wants him to meet Boyd. And so, on a bridge in the middle of the night, with plenty of glowering from various minions on both sides, the two converse. "It has come to my attention that you are in possession of something that belonged to Mags Bennett," Boyd says, and makes reference to Dickie joining her mother in the afterlife, which would also conveniently allow the two of them to become significantly richer. Ellstin is not intrigued, and tells Boyd to give his best to Arlo Givens, who happens to be standing right there. His age is the only reason that he doesn't get slugged in the face after that.
Arlo's son is having a better time of it - at least at first. He and Winona are discussing houses, but then a state trooper calls and tells him that Wade Messer has been spotted. Wade (played by James LeGros, also known as the first man to be Raylan Givens, in the 1997 TV-movie adaptation of the novel Pronto) spots Raylan too and narrowly escapes after the truck he's sitting in goes off the side of the road and rolls. His partner isn't so lucky.
Prison guard Officer Murphy (Todd Stashwick) has some words with Dickie Bennett about his encounter with Boyd. The prison guard overheard everything that Dickie and Boyd said in solitary last week, and now he's got his sights set on the money, too. Dickie plays dumb and tells Murphy to "hold your horses" until he's out of prison. That's not the answer Murphy wants to hear.
After escaping from the truck accident, Wade goes to a local pawn shop and tells his buddies what happened. Raylan is briefing everyone's favorite state trooper Tom Bergen at the same time. Tom's brought his kids with him because his wife's sick, which is oddly cute. Bergen and Raylan hypothesize about what's going on, while Wade's driving buddy makes bail and gets forced to play "Harlan roulette" by his boss, the owner of the pawn shop. It's an incredibly uncomfortable scene as the poor guy is so desperate for his next drug high that he risks blowing his own head off. Unfortunately for him, his boss is a sadistic bastard who shoots him anyway, and then orders Wade to get rid of the body.
Limehouse's people are taking all of Mags' marijuana off Boyd's hands, which Boyd believes is a good idea because it's not "smart business" to have it around lest the cops or someone else eventually come calling. He calls a house meeting with Arlo, Devil and Ava, declaring that "We will protect Harlan. We will control every aspect of crime within its boundaries." Yes, Boyd has a plan and it is an ambitious one.