'Justified' Recap: Bad Things Happen When 'Guy Walks Into A Bar'
Justified keeps going strong this week, as Raylan and Quarles have another confrontation that makes up one of the best scenes in the show's history. If Timothy Olyphant or Neal McDonough don't win an Emmy, I will be shocked.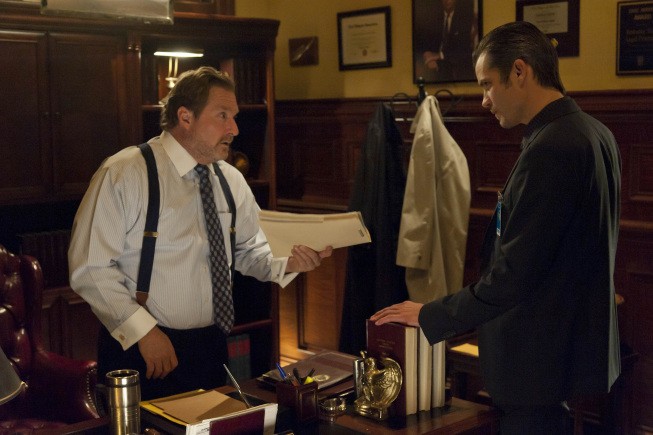 Nothing good ever happens past nightfall in Kentucky, at least on this show. There are two sheriff's deputies planting drugs in Shelby's truck, for one. He stops them with his shotgun, but it's clear they're playing dirty in Harlan County. Shelby then talks to Boyd, who decides he doesn't want his friend going anywhere alone from that point on. He goes to visit Ellstin Limehouse, and then decides to look up Sheriff Napier's sister Hannah. He wants to offer her a job.
Meanwhile, Raylan visits Judge Reardon (Stephen Root), trying to keep Dickie Bennett in jail. The judge isn't able to help him, and neither is our favorite attorney (Rick Gomez), so we all know Raylan is going to find some unconventional way of getting what he wants, as he always does. That is part of why we love him.
He has a chat with Jed (the always great to see Richard Speight Jr.) to convince him to incriminate Dickie. Jed tells a story about how his family owes a debt to the Bennett clan, and will only start talking if Raylan gets his grandmother on the same side. Unfortunately for our Marshal, Jed's grandma had a stroke awhile back, which makes things just that much more difficult. The AUSA suggests Raylan consider testifying instead of doing something half-cocked, but our hero admits that "it's never gone well."
Apparently "the nature of Harlan County politics" includes scheming and sexual favors from prostitutes, but even that doesn't work, as Napier wins the election, leaving Quarles in charge. The first thing he does is take over Napier's office. But wait! With Napier's sister on the county clerk's payroll, that makes the sheriff ineligible for re-election. Quarles realizes what's happened and has a little confrontation with Boyd, who advises him to "never forget who packed your bags." The big bad's response is to pop more pills, much to the concern of Wynn Duffy (Jere Burns).