Justice To Headline Spring MySpace Music Tour

MySpace, the world's most popular social network, today announced the Spring 2008 MySpace Music Tour, featuring the Grammy-nominated French electronic duo
Justice
with support from
Diplo
,
DJ Mehdi
, Chromeo, Busy P and
Fancy
on select dates.
The second in a series of MySpace produced and branded concert events slated for each fall and spring, the Spring 2008 MySpace Music Tour, produced by Live Nation, the world's largest live music company, will kick off March 3rd in Austin, TX, and finish on March 31st in Los Angeles, CA. Tickets will go on sale to the general public January 9 – 12 at the MySpace Music Tour profile (
http://myspace.com/myspacemusictour
), local ticket outlets and venue box offices.
"MySpace members can connect with and discover an endless amount of bands and music on the site, and the MySpace Music Tour concert series gives us the opportunity to showcase some of the very best in today's music culture, doing what they do best, for fans across the country," said Tom Anderson, president and co-founder of MySpace. "Justice has a phenomenal thing going on, and I can't wait to see them on this tour!"
"Justice had an extraordinary year in 2007, earning tremendous critical and commercial acclaim around the world and three Grammy nominations," stated Josh Deutsch, Chairman/CEO - Downtown Music. "As we continue to introduce Justice to a wide audience in the U.S., the Spring MySpace Music Tour is great way to kick off 2008. MySpace provides a platform that is truly organic to the band, and the tour offers a way to connect fans with their music and energy in a very powerful way."

On the MySpace Music Tour profile, fans can also check out exclusive tour offerings, including Justice Tour Diaries and music videos, exclusive backstage photos from the tour, and behind-the-scenes scoops from the premiere spring event of the electronic music scene.
Tour headliners Justice is Xavier de Rosnay and Gaspard Augé (
http://myspace.com/etjusticepourtous
), who have attracted a rabid following of fans across several continents for their blistering, rock-driven electro dance music. The Paris-based pair's breakthrough debut album,
Cross
, (Downtown/Vice/Ed Banger), is nominated for Best Electronic/Dance Album – and their unstoppable single "D.A.N.C.E." received two Grammy nominations, for Best Dance Recording and Best Short Form Music Video. "Justice is leading the fashionable French parade," hails BPM, "exposing a new generation of beat-friendly rockers and curious pop kids to their dynamic brand of dance floor readiness."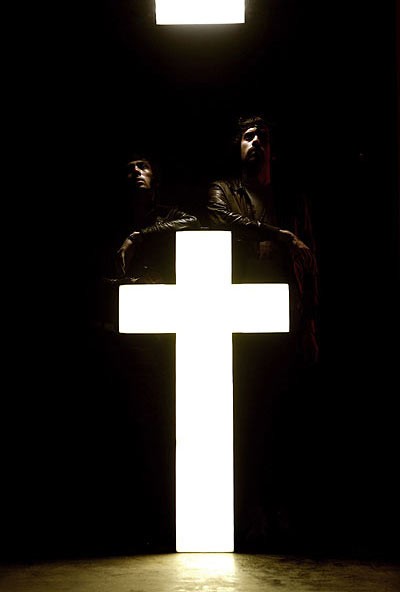 Philadelphia-based DJ and producer
Diplo
(http://myspace.com/diplo) got his start as one half of the famed club duo
Hollertronix
. Diplo now tours around the world, runs his record label, Mad Decent, and the non-profit music initiative Heaps Decent, and recently produced tracks for
M.I.A.
on her album
Kala
. The "Smash A Kangaroo" Heaps Decent single featuring Diplo and Live Session EP is available now.
Born and raised in Paris, DJ Mehdi (
http://myspace.com/djmehdi
) has been producing major French hip-hop artists since 1995 while also gathering much acclaim with his bands Ideal J and 113. Now signed to Ed Banger Records, DJ Mehdi's recent album,
Lucky Boy
, bridges the gap from hip-hop to electro, featuring guests
Chromeo
on "I Am Somebody" and a throbbing edit of "Signatune" by
Daft Punk
's Thomas Bangalter.

Chromeo (
http://myspace.com/chromeo
) is Pee Thug and Dave 1: best friends since their adolescence, virtuoso musicians, walking hip hop encyclopedias, and the only successful Arab/Jew partnership since the dawn of human culture. Following up the critical success of 2004's
She's In Control
LP and last year's hit collaboration "I Am Somebody" with DJ Mehdi, the illustrious Montreal-based duo known as Chromeo hit the studio and returned with
Fancy Footwork
, available now.
Well known in the world of electronic music for his longtime management of French heroes Daft Punk, Busy P (aka Pedro Winter) (
http://myspace.com/busyp
) launched his own label Ed Banger Records in 2003. Responsible for breaking artists such as Justice, Uffie and SebastiAn, as well as DJing the wildest parties around the globe, Busy P has developed a cult-like following through his sets of head-banging electronic music. Check out his single "Rainbow Man," out now.
Fancy
(
http://myspace.com/welovefancy
) is a flamboyant boy/girl four-piece outfit from the notorious riot zones in the working-class suburbs of Paris. Mixing
AC/DC
and
T. Rex
with the glitter ball sparkle of disco, Fancy comes armed with loads of make-up, feather boas, killer tunes at the ready, and a mountain of glowing press in France – including the "Most Entertaining Group" award from the French newspaper
Libération
. Onstage, Fancy has supported
MC5
,
TV on the Radio
,
Daft Punk
and
The Rapture
.
Following is the schedule for the Spring 2008 MySpace Music Tour:
3.3 Austin, TX Stubbs Justice, DJ Mehdi, Fancy
3.4 Dallas, TX Palladium Ballroom Justice, DJ Mehdi, Fancy
3.6 Orlando, FL The Club at Firestone Justice, DJ Mehdi, Fancy
3.9 Baltimore, MD Sonar Justice, DJ Mehdi, Fancy
3.10 Philadelphia, PA The Electric Factory Justice, DJ Mehdi, Fancy
3.11 New York, NY Madison Square Garden Justice, DJ Mehdi, Busy P, Fancy, Chromeo
3.12 Washington, DC 9:30 Club Justice, Busy P, Fancy
3.15 Boston, MA Paradise Justice, Busy P, Fancy
3.16 Montreal, PQ Cepsum Justice, Busy P, Fancy
3.17 Toronto, ON The Docks Justice, Busy P, Fancy
3.19 Detroit, MI Royal Oak Music Hall Justice, Diplo, Fancy
3.20 Chicago, IL Riviera theater Justice, Diplo, Fancy
3.22 Denver, CO Ogden Theater Justice, Diplo, Fancy
3.24 Seattle, WA Showbox SoDo Justice, Diplo, Fancy
3.25 Vancouver, BC Commodore Justice, Diplo, Fancy
3.26 Portland, OR Roseland Theater Justice, Diplo, Fancy
3.27 San Francisco, CA Concourse Design Center Justice, Diplo, Fancy
3.31 Los Angeles, CA Mayan theater Justice, Diplo, Fancy
The inaugural MySpace Music Tour launched in Fall 2007 and featured co-headliners Say Anything and hellogoodbye, plus Young Love, MySpace Records' Polysics, Dr. Manhattan and Socratic. To date, MySpace has more than six million bands using the site. MySpace music has allowed bands to share music and videos, announce tour dates and communicate with fans and others in the MySpace community, seamlessly integrating the web into shared online and offline experiences. MySpace Music centers around the more than six million major, indie, and unsigned artists that use their MySpace music profiles to communicate and intimately connect with fans and friends. Each music profile empowers artists to upload video content, blog, post tour dates, lyrics, and make their music available to fans for stream or download. As one of the most popular and most trafficked music platforms in the world, MySpace Music has evolved into an offline experience by connecting bands and fans around the world through various concert series and live events including Secret Shows, MySpaceLIVE, and The List.