Just Jinjer Talks Touring, 'What He Means' & Celebrity Fans

Just Jinjer
is the most successful rock act in South African history and recently made their way back home after recording and touring overseas. The band has had two double-platinum albums, six #1 hits, and 10 Top-10 hits in their native land; and they've shared the stage with some huge names, the likes of
U2
,
Stevie Wonder
,
Elvis Costello
and the
Spice Girls
. They recently hit London for some shows before heading home again after a stay in the U.S.
We recently caught up with bassist Denholm Harding, and he spoke about the band returning home and some unlikely celebrity fans...
How is the transition going with your move from the U.S. to South Africa?
It feels good to be operating from here again and even though we're still globe trotting continuously, at least we can come home in between. We loved the time in Los Angeles but South Africa has a unique energy which we thrive off and so it inspires everything from the music to us as people.
How is the reception since coming back home?
We have been greeted with open arms, tons of radio play, interviews and playing to 10's of 1000's of fans in merely 2 months. There are some very exciting opportunities being lined up for the near future and the buzz here is awesome, especially with South Africa hosting the Soccer World Cup in 2010.
We know that you played some dates in London recently. How did these shows go?
Just Jinjer EPK:


Excellent! In addition to the hits, we showcased some new material, to which the crowd really responded. We look forward to a radio release there soon and supporting that live.
What, if anything, do you notice between the different concerts & fans playing live around the world?
We like to think that we make honest music which has a universal message, so we've been very lucky when it comes to foreign and new audiences. People connect to what we generate live. The biggest difference is between big and small venues. We try and create small venue intimacy in large spaces.
In the video "What He Means" we heard that that there were some friends & family members in the video?
Yes, we are close knit unit and we keep our loved ones as near as possible. Our drummer, Brent, had the first baby in the band almost 2 years ago.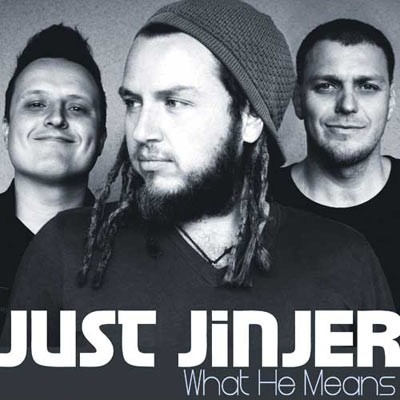 What are the fan favorite songs that you play live?
It changes according to what songs were hits on radio in certain territories, etc. Sometimes we get surprised by the response to songs we thought weren't 'hits' but we enjoy playing them. 'What He Means' and 'Shallow Waters' are biggies.
What are your favorite songs to play live?
All bands will say that the new songs are their favorites to perform because they're fresh and exciting but it's also very flattering to play a song that everyone sings along to. We try and run it from a business stand point.
What instruments do you all play?
We all started on drums and went on from there. Brent specialized in it and Ard and I went onto various instruments like guitar, keyboards, bass, etc.
I'm pretty quick at learning to play new instruments and have fiddled with sax and cello.
"What He Means":

How did you come up with the lyrics to "What He Means"? We love the message in this song.
Ard had the melody idea for a while and other than that the song basically "wrote itself".. When Ard first presented it to the band, they were a bit worried as to how convoluted the chorus was, but Ard did not want to sacrifice the message for the sake of pop! He stuck to his guns.
How did you decide on the area where to film the video for "What He Means"?
The video also pretty much shot itself. It was a case of the planets being aligned and opportunities presenting themselves perfectly. We had the idea of filming the 'peace, love and tolerance' between us while cruising up the coast of California and that's what happened, with a little help from unexpected sources, such as Clint Eastwood and the city of Carmel.
We heard that Paris Hilton and Clint Eastwood are fans of Just Jinjer's music. Can you fill us in?
It seems the music is spreading at quite a pace and the whole 6 degrees of separation thing is working for us. We can name drop some more but the fact is that celebrities are people and connect to our music on a real level, which is special.
We saw a video of you paddle boarding in the U.S.…do you still get to do this in other countries?
The main wave rider in the band is Ard, kite surfing, etc. He now stays on the beach in Cape Town to accommodate his habit. Brent and I prefer watching the ocean while enjoying a beverage.
Is there anything that you would like to pass on to your fans around the world?
Thanks so much for the support, we appreciate it and the best is most definitely still to come!
Comprised of Ard Matthews (Vocals, Guitar) Brent Harris (Drums, Vocals) Denholm Harding (Bass, Vocals), Just Jinjer is the biggest selling rock group in their home country of South Africa. In just over a decade they have sold over a quarter million albums.
Interview by Landi Swanepoel