Just Jinjer: Huge In South Africa, Ready For The U.S.

Just Jinjer
is the top selling artist in South Africa and the most successful rock act in South African history, selling an amazing two Double Platinum albums and one Gold album. Now the band has hit L.A. and is getting poised for their US debut. They've toured with
U2
and
Counting Crows
; and their first US single, "Can I Have More", was released on April 7th.
YouTube user SiriusBackspin made an AMV (
Anime Music Video
) using the band's song "Can I Have More" with the Anime "Requiem From The Darkness". Check it out:
Can I Have More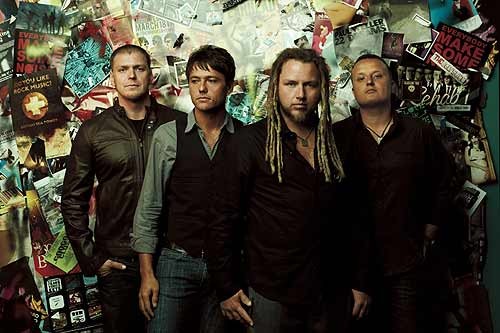 A brief bio in the band's EPK:


Hear 4 more songs on the band's
MySpace
.
Listen to "Can I Have More":
Windows
|
Real
Just Jinjer has had 6 #1 Hits and 10 Top-10 Hits. The band is involved in an organization called MYLIFE (
WWW.MYLIFE.ORG.ZA
), which is devoted to the rehabilitation of street children and young adults worldwide.
The band is an official member of
Nelson Mandela
's 46664 AIDS organization. In addition to playing Dr. Mandela's 80th birthday bash, they have played many benefits with artists and celebrities such as
Peter Gabriel
,
Annie Lennox
,
Stevie Wonder
and
Queen
in support of this cause.
-
Official Site