Julio Iglesias Honored As Spain's Most Successful Star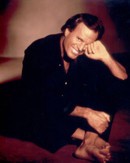 Veteran singer Julio Iglesias was overcome with emotion as he received a historic award in his native Spain on Friday.

Tennis star Rafael Nadal was on hand to present the honor to Iglesias for being Spain's best-selling recording artist of all time, both at home and abroad.

Nadal planted a kiss on Iglesias' cheek onstage at the Cervantes Institute in Madrid and revealed how he admired the star's "desire to excel, even after a lifetime of achievements."
 
Accepting his prize, Iglesias told the crowd, "Undoubtedly, this is the most important day of my career. It is the one that moves me, most deeply moves me. I am also very moved that my father and my mother are not here, as they are the very direct cause of this effort and of the passion that they gave me for life."

He also revealed he is "grateful to the critics, to friends and to the people who, anywhere in the world, have bothered to go to a store or to a concert," before declaring, "Tomorrow I will believe it has all been a dream."