Julie Chen Nearly Forced To Have Plastic Surgery To Further Her Career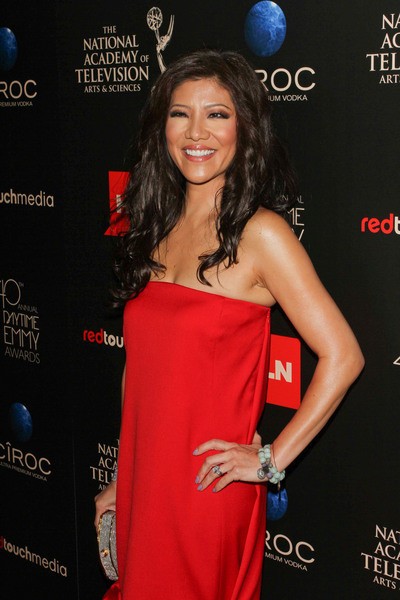 This week the ladies who make up the panel on daytime TV show The Talk are sharing some of their deepest darkest secrets on the show.

On Monday Sharon Osbourne went first, revealing that she once had a sex fling with comedian Jay Leno, followed by Aisha Tyler, who revealed she's had struggles with infertility during Tuesday's show. On Thursday, host Sara Gilbert gave credit to ex-boyfriend Johnny Galecki for helping her realize her sexuality.

But on Wednesday it was Julie Chen's story that shocked, when the host revealed that she caved to workplace racism when she was 25, beginning her career while working at a Dayton, Ohio, TV station.

Chen, who also hosts CBS's hit reality show Big Brother, was nearly forced to get plastic surgery to fix her "Asian eyes" after a boss told her she'd never get an anchor job because of her looks. She asked to fill in for the regular news anchors during the holiday season, but her request was met with a harsh reply.

"My secret dates back to — my heart is racing — it dates back to when I was 25 years old and I was working as a local news reporter in Dayton, Ohio. I asked my news director [if] over the holidays, if anchors want to take vacations, could I fill in?" she explains. "And he said, 'You will never be on this anchor desk, because you're Chinese'.
"He said 'Let's face it Julie, how relatable are you to our community? How big of an Asian community do we really have in Dayton?" she adds. "On top of that because of your heritage, because of your Asian eyes, I've noticed that when you're on camera, when you're interviewing someone you look disinterested and bored because your eyes are so heavy, they are so small.'"

Chen says she became very self-conscious about the appearance of her eyes after that, and began seeking the advice of an agent to help her land a new job.

But one "big-time" agent she met with shared the same sentiment as her station director.

"He said, 'I cannot represent you unless you get plastic surgery to make your eyes look bigger,'" she reveals.

Chen then discussed her options with her parents and her family and, with their support, decided to undergo surgery.

"My eyes are bigger, I look more alert... more expressive," she says (see comparison photo below). "After I had it done, the ball did roll for me. [But] I wondered, did I give in to the man?"

The TV star says that she won't let herself regret it, though.

"I have to live with every decision that I've made," she says. "…And it got me to where we are today. And I'm not going to look back.
"I don't like to live with regrets. No one's more proud of being Chinese than I am."