Julie Andrews Celebrates 'Breakfast At Tiffany's' In NYC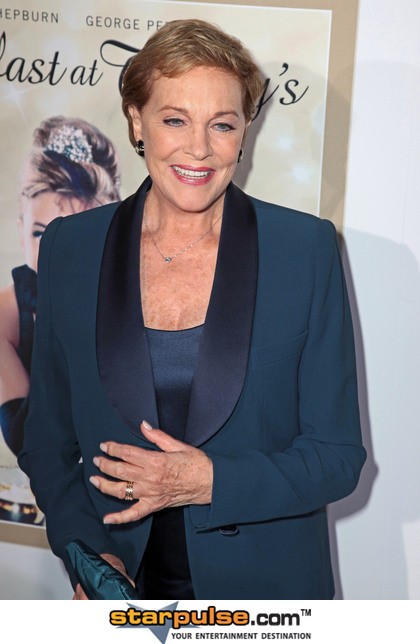 "Breakfast at Tiffany's" is the kind of movie that feels familiar the first time you watch it, and seems fresher and brighter every time afterwards. It's iconic. It's Audrey Hepburn. It's fashion and the little black dress.
It's Moon River, a song "Sex & the City" fans may remember Carrie and Big dancing to in the show's post-9/11 love letter to New York.
It's New York at its most beautiful, romantic, and hopeful.
While the city has changed and there are certain details (Mickey Rooney) that may not be considered "timeless," Audrey Hepburn's Holly Golightly is the type of stylish modern woman that anyone who ever coveted Carrie Bradshaw's shoe-loving lifestyle will recognize and root for.  As a romantic comedy, the movie more than holds up and this beautifully restored edition confirms that Holly Golightly has the all-time best wardrobe of any character on any screen ever.
It was fitting that Paramount hosted a classy celebration and screening just one block from New York Fashion Week at Lincoln Center to commemorate the beloved film's 50th anniversary and corresponding September 20th Bluray release. Famous New Yorkers like Broadway star, Bebe Neuwirth and Real Housewife, Sonja Morgan walked the Tiffany's-themed blue carpet, along with stage and screen legend, Julie Andrews.
Ms. Andrews, who was married to the film's late director, Blake Edwards treated fans to a brief Q&A prior to the movie screening. Every bit as lovely as you'd hope America's favorite nanny would be, Andrews reminisced about her first time seeing "Breakfast at Tiffany's" at Radio City Music Hall, joked about her husband's affection for the movie's leading lady, and shared how a potentially awkward run-in with Hepburn turned out to be the basis for a long and lasting friendship. Naturally, when this relatable story involves two friends named Julie Andrews and Audrey Hepburn, said run-in takes place at the Academy Awards on a night both women are nominated. To hear Andrews tell it was a delightful reminder that we were in the presence of Hollywood Royalty (and Mary Poppins).
The introductory remarks concluded with Ms. Andrews pointing out a few of her favorite scenes for the "Breakfast at Tiffany's" first-timers in attendance, including the highly improvised and hilarious party scene, the opening traffic-free shot of fifth avenue, and the gorgeous Audrey Hepburn, one earring short of ready, asking her new neighbor how she looks. Though I'm convinced that the 'Sound of Music' star's melodic voice would make boiling water sound absolutely magnificent, in this case her recommendations were indeed spot on. I'd also add the scenes where Holly and Fred/Paul have a day of new adventures all around Manhattan, singing "Moon River" on the fire escape, and the final scene with the cat in the rain… but really the whole movie is wonderfully enchanting and looks more beautiful than ever.
While Holly Golightly would recommend combating the "mean reds" with a trip to Tiffany's, spending a few hours watching "Breakfast at Tiffany's" is a more responsible, and very reliable way to cheer yourself up. 
What do you think? Have you seen the movie yet? Do you love Holly Golightly as much as Carrie Bradshaw? Which of Audrey Hepburn's outfits was your favorite? Let us know!