Julianne Moore On Looking Hot, Feeling Confident, And Braving 50 In Hollywood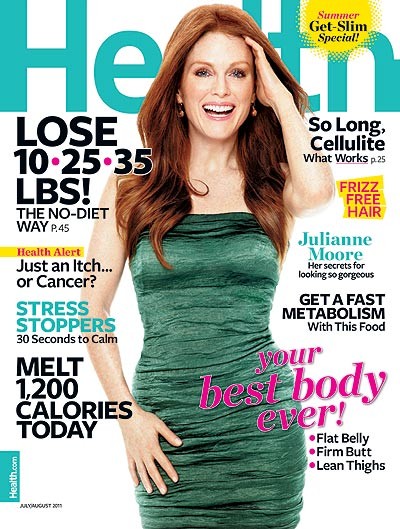 Four-time Academy Award-nominee Julianne Moore recently shared her thoughts on cosmetic surgery, walking the red carpet and being 50 with the July/August issue of Health Magazine.

On cosmetic surgery:
"My feeling is live and let live. But some of those procedures that make you look younger - I don't know that they really made anybody look younger. I think most of the time they made you look like you've had something done to your face."

On feeling confident on the red carpet:
"I never feel confident! I don't know that there's anybody who does. I mean, you don't look around the red carpet thinking, 'There's a lot of confident people out here.'"

On looking amazing at 50:
"The big thing about being 50 is the bar is much lower. People are like, 'Oh my God, you look great!' So that's sort of good."

On Crazy Stupid Love costar Steve Carell:
"I love him, and he's so gifted: His sense of timing and the quality of his humor and depth of it. He grounds everything emotionally."

On managing stress:
"I have to make the beds, I have to do the dishes. And if there's clutter, I love to throw stuff out. Love it."

Read her whole story in the July/August 2011 issue of Health Magazine, on newsstands everywhere now!