Julianne Moore Lands Title Role... As Sarah Palin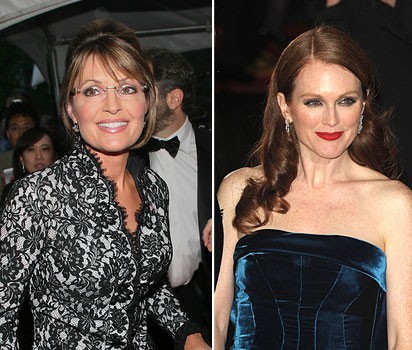 Yes, you read the headline right.
According to Entertainment Weekly, four-time Oscar nominee Julianne Moore has landed the lead role in the HBO telefilm 'Game Change,' based on the best-selling book.  Apparently Tina Fey wasn't available.
The project, to be directed by Jay Roach and written by Danny Strong (both of the successful HBO movie 'Recount'), will follow Palin's quest as the Vice Presidential nominee alongside John McCain in the 2008 Presidential race.
I can't say I see the resemblance, but I have no doubt Moore will do an admirable job.  The only time she butchered an accent was her turn as a Baawwwston native on '30 Rock.'  I'm sure she'll have her Alaaaskan inflection down pat.  Can't you just picture her saying, "I can see Russia from my house!"?
What do you think - will Moore be convincing?
Click Here For More Julianne Moore Pictures